Posted on July 3, 2018
You've made the decision, at long last, to dive into the world of virtual entertainment but now, cash in hand and eager to experience something new, you don't know where to turn. Which VR devices provide the smoothest playback, the most intuitive control, and the most immersive experience? We've surveyed the market and assessed each prominent VR headset and now can guide you in the right direction as you purchase the one thing keeping you from virtually boning every pornstar you've ever fantasized about. (Oh, and, like, visiting tourist attractions in 3D… essential viewing, really.)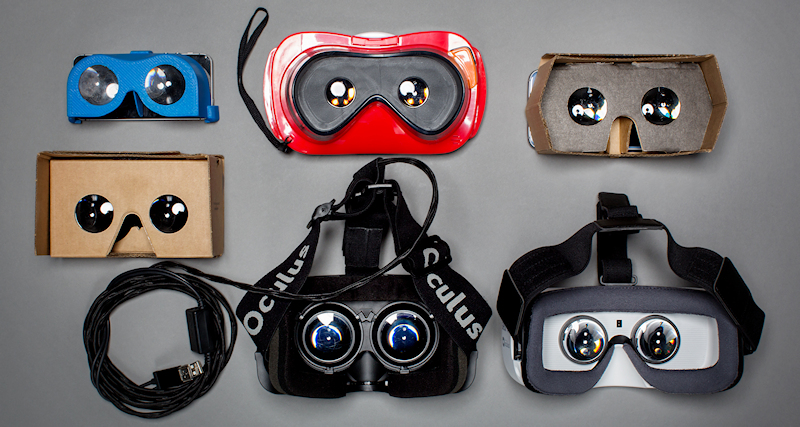 The best VR headset for watching porn comes down to many factors

Hitting your preferred online retailer or big box store to find a VR headset requires you understand your own needs. Are you a console gaming junkie or a high-end tech fiend? Do you prize value or features more? Do you need something that'll introduce you to VR or keep you engaged for years to come? Smartphone users eager to jump into VR can easily do so by scoring a free (or very affordable) Google Cardboard (or equivalent) that can turn your phone into a VR cinema in no time! Many discount retailers now also carry budget VR headsets that accept most smartphones; a good option for those short on cash.

Anyone seeking a truly memorable VR viewing experience may want to up their budget a little and aim higher than Cardboard. Retailing at $53, Samsung's GearVR offers a more feature-rich VR viewer but still sits at the more modest end of the VR product spectrum. GearVR will also want you to use a Samsung phone, which may be an obstacle for some.

Aiming a little higher brings you to standalone devices like the Oculus and HTC range. Oculus Go, at $199, is the most affordable and is definitely giving the higher-end items a run for their money. Oculus Rift offers more power and versatility, and features the excellent Oculus Touch controller, and, at $399, isn't totally wallet-draining.

The big name in high-end consumer- and professional-grade Virtual Reality remains HTC, the company's Vive and Vive Pro proving irresistible to those who can afford them. Launched in 2016, Vive set the standard for VR headsets and, though tethered to a PC for playback, remains damn near unbeatable in the market. Vive Pro's upgraded image resolution, added a camera and other features, and is arguably the most obvious choice for the more financially fluid of us. HTC's Vive retails for $499, the Vive Pro for $799. A standalone viewer from HTC, Vive Focus, is already available in China and due to land in US stores this fall, which could further tighten HTC's hold over the VR realm.

Choosing the right VR headset or viewer for your needs first requires you understand VR and your viewing tendencies, only then, if it fits your budget, can you dive into this startling new tech to discover the endless thrills of VR pornography . Watch your wallets, folks, but aim for the best - your VR porn experience will be better for it!