Posted on October 24, 2018
Some young men dream of being players and, soon as they can, hit every "gentlemen's club" they can thinking they'll throw a little money around, score with a stripper and be the envy of their fellows, gaining a few rungs on that ol' social ladder. Others are too timid for the whole strip club environment, are homebound or less mobile, or object to it religiously or politically. Others still may have even been asked by their local establishment not to return. Where should those folks turn? Virtual Porn, of course!

The recent launch of softcore virtual striptease sensation, StripzVR, injects more valuable dick-free entertainment for the discerning VR-equipped voyeur. With an enticing parade of perfectly sexy women eager to demonstrate their striptease skills. Without giving too much away about its models, StripzVR invites you to strap-on, strip-down, and enjoy a private show like no other, complete with a pumping soundtrack straight from the club floor. From hot rockers with face tats and sleeves to a busty hot-wax-pouring vixen to a charming teen brunette who's not quite so in-your-face, the models offer a variety of styles, ethnicities, and temperaments in exclusive weekly updates.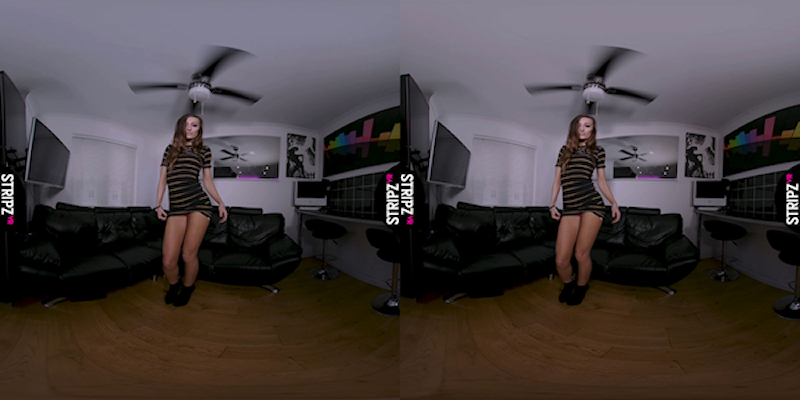 The petite stripper Jizzles is a fan favorite at StripzVR

In each StripzVR episode, regardless of who's ditching her already skimpy outfit for a nipple-baring romp before the VR camera rig, members find 60 FPS 180-degree videos in 5K resolutions fit for use on all major VR headsets and viewers. Tour page samples give you a very good idea of what to expect once you pay your entry fee but for even more pre-payment education, you can't go past Virtual.Porn's own HD VR previews and full, detailed review of StripzVR, a very exciting new addition to the softcore VR scene.