StripzVR is one of the newer VR porn studios, releasing their first video in early 2018. Since then they've made quite the impression on the virtual reality community, in no small part thanks to the continued work of the studio owner in making sure the consumer is happy, and taking on board suggestions and ideas. The content itself is softcore, or to be more specific, stripping and dancing - fans of hardcore action are out of luck. However, what they lack in full-on XXX action they make up for with the girls - all of whom are stunning, with a unique look, and seemingly signed to exclusive contracts with StripzVR.
If the more extreme tendencies of VR porn leaves you cold, StripzVR might be just the ticket. They promise 'only the most beautiful girls', and unusually for the porn world this is no exaggeration. The girls are jaw-droppingly attractive, in the main, and you won't recognise them from other porn videos - though you might have seen them on UK TV or in British strip clubs.
And stripping is what the scenes are all about. Each video places a girl in a new setting, from high-end hotel rooms to well-lit bathrooms, where they're left to strut their stuff. This means stripping naked while dancing, teasing the viewer like true professionals - and indeed, many of the girls seem to have come from the strip club circuit, with girls such as Karolina working as a Spearmint Rhino dancer as well as a ring girl for boxing events.
The dancing matches up to a soundtrack of heavy electronic dance music that seems to have been produced specifically for StripzVR. At first it seems a little jarring and dark for porn, but certainly suits the strip club vibe. Eventually, the music becomes an important part of each scene, giving StripzVR a very different tone to other VR porn studios. Rather than ham-fisted acting, or eerie silence, it feels like the girls are giving you a private dance to their favorite music, which all adds to the immersion.
However, this upfront soundtrack is also one of the drawbacks as it means we never get to hear the girls speak. And yes, we rarely speak to girls in strip clubs either, but it'd be great to have each girl introduce themselves at the start so we can hear those hot (mostly-British) accents in full. It's not a major issue, but a bit of talking and interaction with the girls would really lift things.
But all that takes a backseat to the main event - the girls themselves. It's hard to overstate just how attractive these women are. Not only is Jizzles one of the best-looking girls on the StripzVR line-up, she's also one of the best-looking girls in VR porn as a whole. Slim, with long brown hair, she has that bad-girl slutty look down pat, and when she makes eye contact with you while lifting up her skin-tight dress, it'll send shivers down your spine.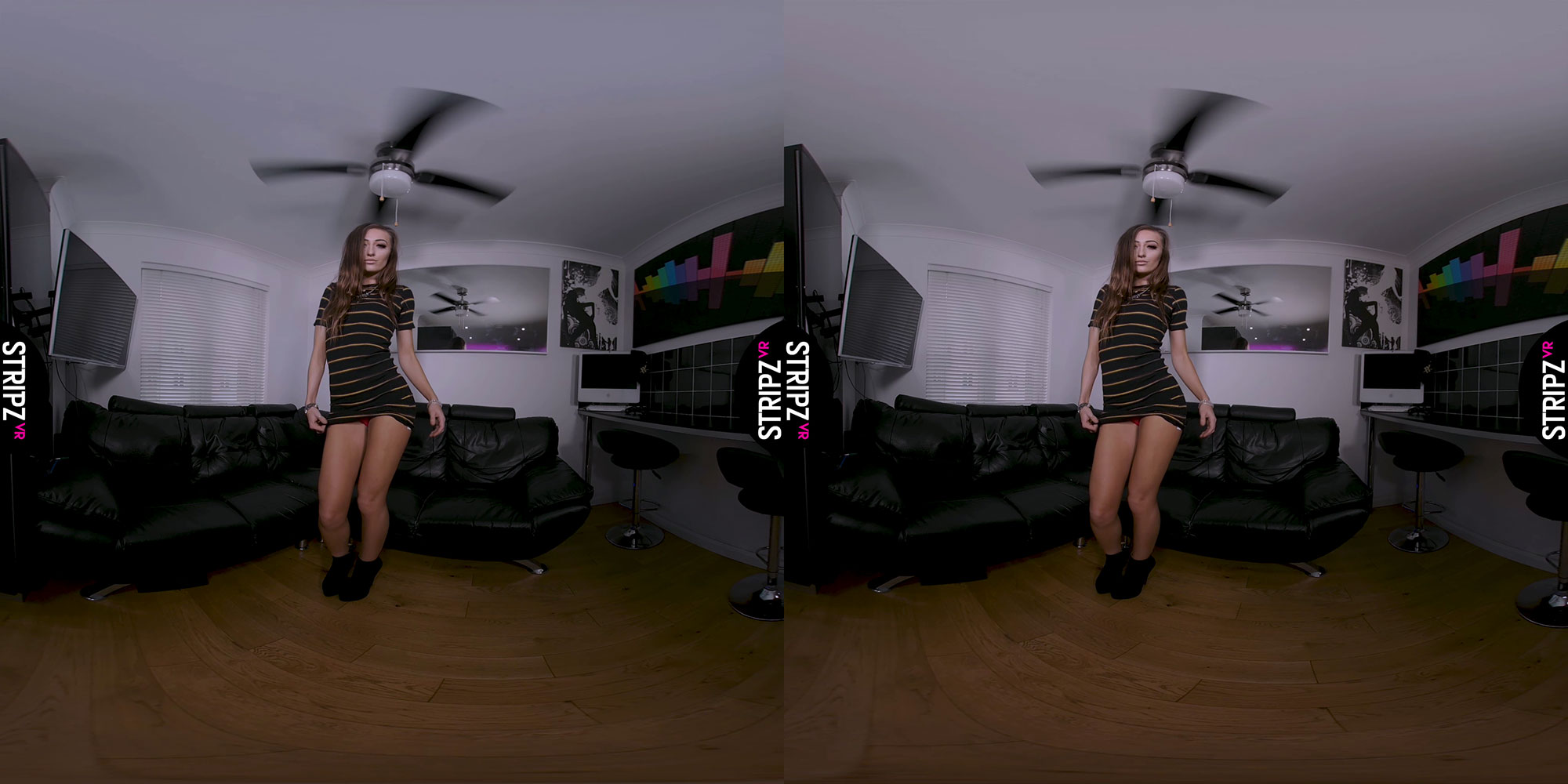 Jizzles stripping in virtual reality for StripzVR
But she's no one-off - scenes featuring the unbelievable Sophia Blake are absolute must-see videos. UK readers might recognize her from a British TV show called Naked Attraction, in which contestants strip off naked and decide whether to date each other. She was by far the best-looking girl on the entire series, and it's a real coup to see her here, stripping completely naked and showing off her fantastic big tits, fat ass and cute-as-hell shaved pussy. This redhead babe is pretty enough to be a top model, let alone a stripper, and you'll return to her scenes again and again.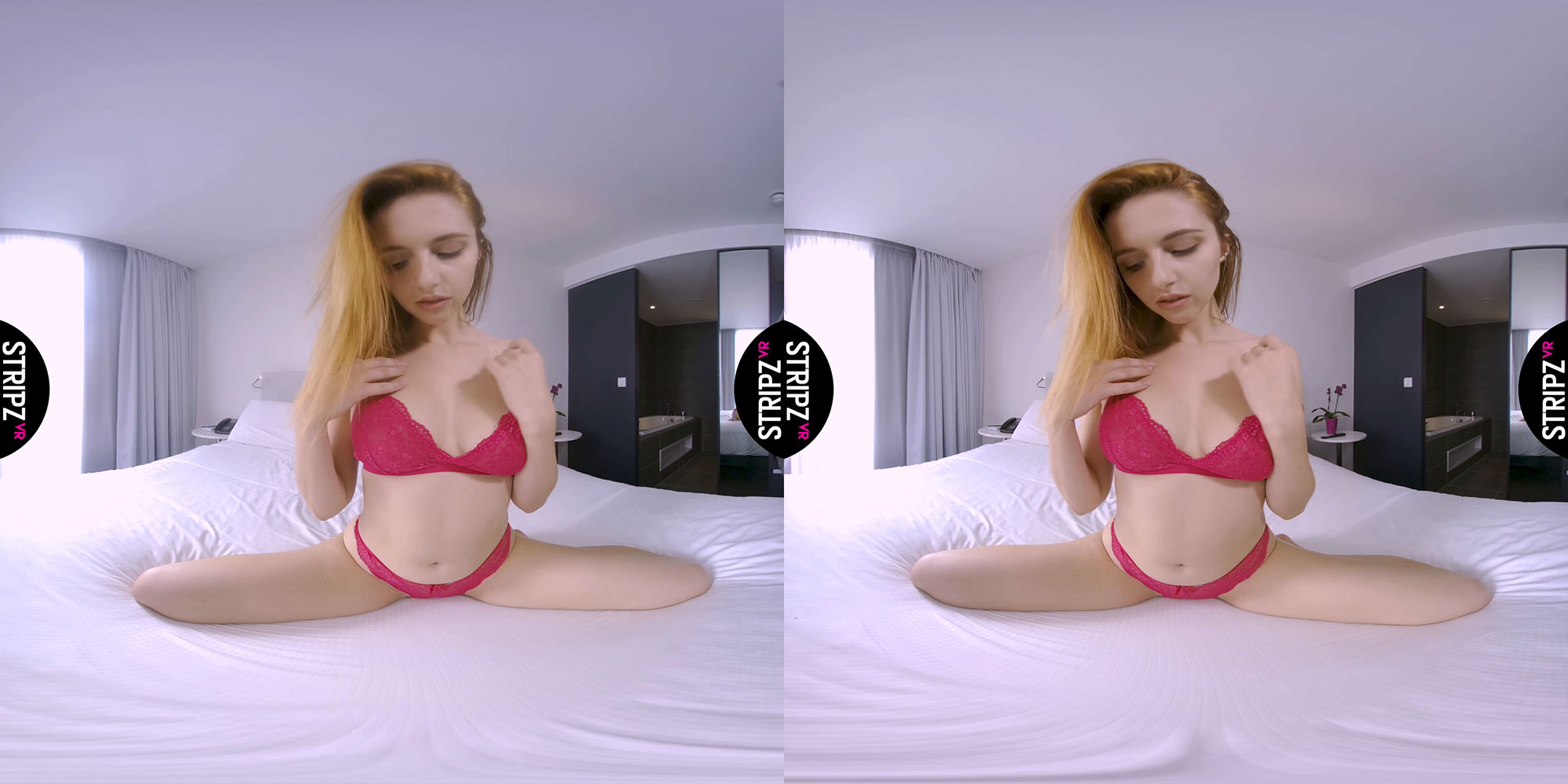 Naked Attraction star Sophia Blake strips in VR for you!
And then of course there's Lady Lauren Brock, a Welsh blonde with piercing blue eyes who's covered head to toe in tattoos. It's rare to see genuinely artistic tattoos in porn, but Lauren has them in spades. Her scenes are more aggressive and upfront than some of the videos featuring the other girls, which just goes to reflect the personality of this fetish model.
Each scene is under 10 minutes, which might seem short for a VR porn video but it works well here. There's only so long a girl can spend dancing and stripping, and sometimes short and sweet is all the more satisfying. Ultimately, if you're not looking for hardcore action but you like your girls young, slim and stunning, you should make a beeline for StripzVR and start with the girls mentioned above. You won't be disappointed.
Update frequency
StripzVR's release schedule is a reasonable one video per week, similar to many mid-level VR porn studios.
Price
StripzVR's release schedule is a reasonable one video per week, similar to many mid-level VR porn studios
Actor variety
This is where StripzVR shines. All the girls used seem to be under exclusive contract with StripzVR, and they haven't been spotted performing in virtual reality anywhere else. Even better, they're very good-looking indeed, particularly if you prefer young slim women. The ethnicity isn't so varied, with most girls white and from Western Europe - mostly British, which is an interesting twist compared to most studios which are heavily populated with East European women or big-name American pornstars. The StripzVR girls have a unique look, which can best be described as 'hot girl at the club' in superb tight and slutty outfits. You'll also find a few heavily-tattooed girls, which is another element that makes StripzVR stand out in a crowded market.
Scale / Distortion
StripzVR videos are all shot from a voyeur perspective, using a static camera. This makes the scaling much easier to deal with in the edit studio, and as such there are zero issues with distortion and scaling, even when the girls are grinding up right next to the camera. It's clearly a high-end rig, perfectly suited for the job in hand.
Video quality
The image quality is excellent, helped by the static camera, voyeur perspective set-up. The videos are crystal-clear, with every aspect sharp and clear and no problems when it comes to motion - which is key for videos like these in which dancing is the main focus. Videos are available in 60FPS and 5K, bringing them up to speed with the current trends in VR porn.
Download speed
The videos download quickly, with no major issues unless you're attempting to download more than one video at a time. The website is well-designed, with big vibrant images showing exactly the kind of content from each scene and the girls pulling their best Instagram-friendly poses. It also has a useful 'upcoming scenes' section to keep the viewer's interest.
Bonus content
You won't find much official bonus content - StripzVR lets the videos do the talking. But the customer support is constantly excellent, and you'll find the head honcho taking part in discussions about VR porn online. They're particularly open to suggestions and requests, wherever possible, and it's impressive and reassuring to see a VR porn studio's Mr Big take a vested interest in what his customers think.
Conclusion
StripzVR has a lot to offer, and it's a very good addition to the VR porn studio line-up. If you're a fan of voyeur and solo scenes, this has everything - girls who are both beautiful and amazing dancers. The price is a little on the high side, especially when the updates only come once a week, but this is balanced out by the quality of the production and the fact that, as yet, you won't find these girls anywhere else - apart from in strip clubs, that is. There's a sense that StripzVR is just a stepping stone for some of the girls, and that they'll move onto hardcore performances in time. And in the cases of Jizzles and Sophia Blake, let's hope that comes sooner rather than later. Sometimes it feels like a missed opportunity to merely have them stripping - and as good as they are at seducing and teasing the viewer, there's a real sense that a hardcore POV scene with these girls would be genuinely incredible. If StripzVR ever set up a sister studio called FuckzVR they'll rule the VR porn roost.