VR porn is constantly innovating. New gimmicks and ideas are launched on a monthly basis. One of the most successful of these is the involvement of cosplay. In other words, dressing up porn stars as well-known cult figures from comics, films and computer games, and letting the viewer fuck them. VRCosplayX is the first site dedicated solely to this, and despite only being around a few months, already has a cult following. The video quality and production values are impressive, but there are few drawbacks you should be aware of before splashing out on that relatively high monthly subscription fee.
Cosplay? The dressing up cult for oddballs and comic book nerds? That's right - it's been dragged kicking and screaming into the world of VR porn. BadoinkVR kicked the whole thing off with their 'Harley Gets A Tune Up' scene, back in late 2015, featuring the pneumatic Blondie Fesser as the DC Comics and Batman supervillain, Harley Quinn. While far from a classic scene - the video quality and camera angles are poor, much like many of the early 3D porn releases - nevertheless it connected with porn fans across the globe, leading to a spate of similar costume-based VR scenes from various porn studios.
BadoinkVR saw potential in this niche and launched their spin-off site, VRCosplayX, at the end of 2016. A parody of the wildly popular Overwatch video game became the first release, featuring the stunning Zoe Doll as Tracer, and Alexa Tomas as Widowmaker.
The first thing you'll notice about these cosplay videos is the heavy reliance on make-up and costume, often to the detriment of the video. In this debut video, Alex Tomas's entire body is caked in blue make-up and this, along with her green cat-eye contact lenses make her barely recognisable as human. Jasmine Webb's X-Men parody is another frustrating example of this. Cosplay fanboys might argue this is the point, but if you merely want to see and screw naked women, you might be left disappointed at points.
That's not to say VRCosplayX is purely for those with a fancy dress fetish. They have some of the biggest names in porn, such as Stella Cox, Valentina Nappi and Katrina Jade, who provide some of the best VR scenes to date, not only for VRCosplayX but 3D porn as a whole.
Stella's scene, her first for VR porn, is particularly impressive. This is set in the world of Harry Potter, with her playing a thinly-veiled (and way more attractive) clone of Hermione. Once you get beyond the magic spells and wand puns, it becomes a classic VR porn scene - Stella looking incredible dressed as a private school pupil, in cloak, gown and stockings, visibly enjoying acting out the role.

The visuals for all the scenes are pretty good. As you'd expect from a BadoinkVR spin-off, the camera angles and point and view are solid and believable, delivering a colorful, non-grainy view of the girl and whatever weird and wonderful location you happen to be in. The lighting is occasionally a bit low, usually to reflect the world being imitated, but is generally accurate and atmospheric, with decent shots of the girls.
Other than a handful of threesome scenes, the content is basically straight sex. VRCosplayX's selling point is the scenario. There are no doubt plenty of people who've dreamt of screwing Princess Zelda, Catwoman or walking into a strip club straight out of Grand Theft Auto. And here's your chance. Practically every major cult comic book, computer game or Hollywood blockbuster you can imagine is represented here.

The acting is better than you'd expect and the costumes are top-quality. There's nothing cheap about these videos - every effort has gone into making them as believable as possible. The dialogue and set-up are surprisingly tight and well-scripted, making each scene much more immersive and captivating than the typical virtual porn release.
However, these costumes are also part of the problem. All too often, the actresses keep their clothing on throughout the entire video, other than exposing a few necessary parts. What's the point of hiring a porn star with as amazing a body as Alexis Adams, if she keeps it most of it covered up with a catsuit throughout the whole video? A good balance would be to ensure each actress ends up completely nude after some initial fucking. This would keep cosplay aficionados happy, as well as catering to the average VR porn fan who wants to see every bare inch of the girl they're fucking.

Each video is around 30-40 minutes in length, which is enough time to establish the plot without taking too long to get down to business. After a while in the game, they have a solid back catalog of videos, covering every aspect of cosplay you can think of, from Star Wars to Overwatch, and even Jessica Rabbit.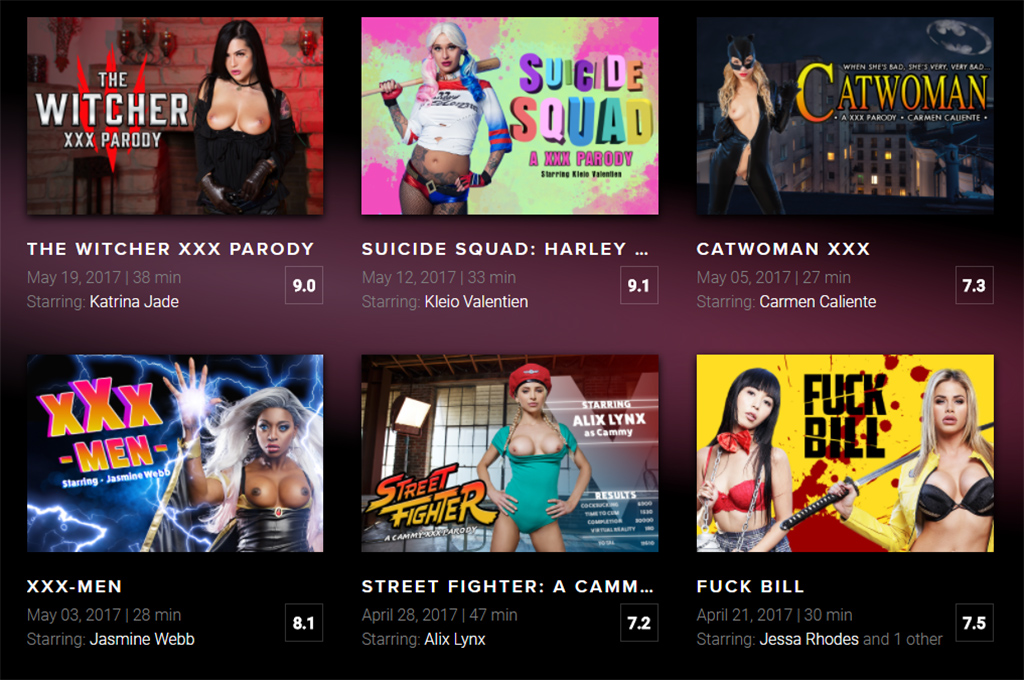 The subscription cost is $24.95 a month, which is at the high end considering the low release schedule, but you do get a free set of cheap VR goggles. Opt for a year's subscription (the so-called 'God' pricing plan) and the cost goes down to a very competitive $5.95 per month. Still not convinced? There's a 'rookie' option for $1, which lasts for one day and allows one full video download. This is an excellent way to dip your toe in the water without any recurring fees.
Annoyingly, payment for subscription is by Visa or Mastercard only. When it comes to porn, privacy and safety matters a great deal to the user, so the sooner the option of paying by bitcoin or PayPal, the better. Despite this, the web-site is well laid-out and easily to follow, with sturdy, super-fast download speeds.
Update frequency
VRCosplayX has a fairly low release schedule, with just a single new video per week. This can be excused due to the increased time and money spent on costumes, plot and setting, and in some ways does justify the high monthly cost.
Price
$24.95 is at the high end of VR porn sites, particularly as there are only four or five new videos each month. However, a yearly subscription does bring this down to $5.95 per month. But is it worth making a yearly subscription for a site with a fairly small back catalogue and low release schedule? A better option is the $1 one-day 'rookie' payment, which allows unlimited streaming and one video download. Choose wisely. Choose Stella Cox in Harry Pudder (or Taylor Sands in 'Star Wars').
Actor variety
You'll find some of the top names in porn engaging in a spot of cosplay, including three of the very best virtual reality porn actresses out there, the holy trinity of Katrina Jade, Stella Cox and Aexis Adams.
Scale / Distortion
As a spin-off of BadoinkVR, the filming matches up to their sky-high standards. The girls are realistically rendered, and the perspective perfect for full immersion into the scene.
Video quality
As with BadoinkVr, the visuals are excellent. Sharp, clear and crisp with bright bold colors. All videos are 60fps, with ultra high resolution. They're fast catching up to CzechVR when it comes to quality.
Download speed
Download speeds are quick and reliable, you can trust videos to be on your hard drive as fast as your internet connection will low. The website is well laid-out and easy to navigate.
Bonus content
Other than a pair of free VR goggles, there's not much in the way of bonus content. And in truth, if you're subscribing to a virtual reality porn site, you've almost certainly got a decent VR headset already. Although you do get access to the Badoink VIP Network, which features thousands of excellent 2D porn scenes.
Conclusion
The word cosplay might seem off-putting to the average VR porn fan who just wants to blow his load over attractive women and doesn't want or need any extra gimmicks. However, some of VRCosplayX's scenes are the best available, with the well-executed plots and settings making for an surprisingly immersive experience. But this can also be frustrating at times, with the heavy reliance on costume and make-up obscuring the looks of the girls. When it works well, as with the videos featuring Stella Cox, Anny Aurora and one-to-watch British-newcomer Rhiannon Ryder, the scenes are up there with the best VR porn has to offer. But the cosplay theme can often detract from the main event - fucking naked girls in virtual reality, in case you forgot. Cosplay fans will be blown away by both the production values and sheer range of characters on offer, but the average porn viewer should try out a few sample scenes before committing to a subscription.