Posted on August 15, 2018
Advancing sex technology has thrown the conservative world into a tizzy. Is it prostitution if it's a Real Doll and not a real woman? Is it immoral if the harem of twenty-something babes entranced by your dick are just high-tech CGI renderings? One country aims to find out the limits of socially acceptable virtual sex and, predictably, that country is Japan.

A dense and aging population, multi-generational family living, and housing shortage not only leaves Japan's young couples without reliable fuck-pads, but solo flyers, too, are left without somewhere clean, private, and loaded with high-tech sex gadgety to get themselves off. Soft on Demand aka SOD noted that, while couples have "love hotels" for their romping, masturbators had nothing of the sort. Introducing VR sex vending seemed like a natural progression, a combination of VR porn and the video store viewing booths of yesteryear and a welcome respite from the chaos of Tokyo for those that just want to unload their tension with a virtual woman.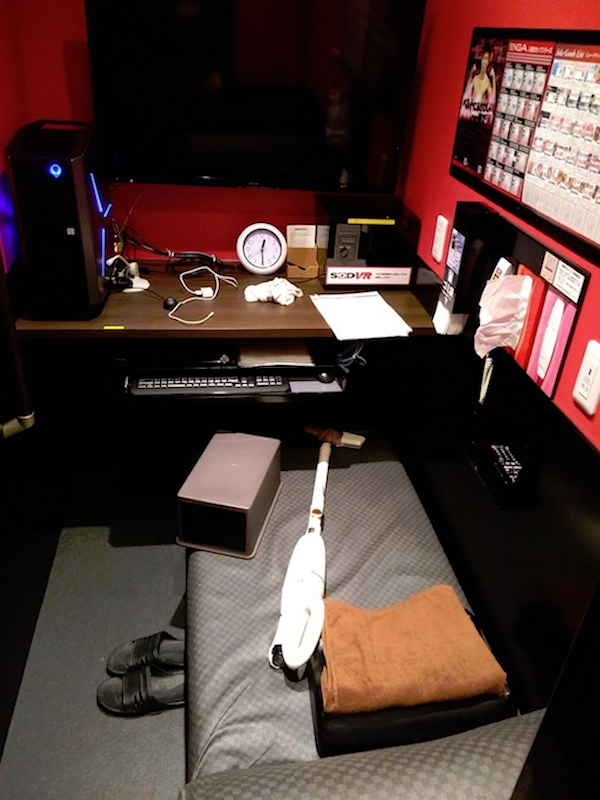 A look inside a VR sex booth in Japan

Predictably, the outrage over VR sex booths has arrived, but it hasn't come from the Japanese. Comfortable with many deviations from the sexual norm, the famously kinky phallus-worshipping society may shun feminist artists and their vulva kayaks but seemingly have no problem with men wanking in storefronts. SOD's VR booths provide patrons with a PC, headset, tissues, lube, and a range of products available for purchase to aid one's self-pleasure. Simply recognize your urge rising, find an SOD shop and pay your yen, buy a Tenga on the way in, then virtually enliven your lunchtime with some of the most thrilling (if unreal) sex of your life? Tell me that's not a salaryman's dream! UK rag The Sun seems to think VR sex booths are the end of human-to-human erotic interactions, but that's clearly short-sighted. Just think of the possibilities!

Once VR models are genuinely original, completely custom creations tailored to each user, or when teledildonics and 3D video combine with a Skype-Tinder hybrid platform for perfect but random, totally safe and discreet virtual sex with real people located in another fuck-booth somewhere else on Earth, then maybe actual sex may have something to worry about. Sure, SOD's VR booths aren't the sexiest (or likely cleanest) places to stroke one out, but if you don't have the tech at home, wouldn't you give it a shot?