Posted on August 21, 2018
Japan has been producing some of the finest animation directors, character creators, and finished 'anime' creations in human history but once the early-'00s anime phenomenon hit screens Stateside, it was only a matter of time before an American production stood toe to toe with Japan's best. Others have tried and fallen far, far short but back in 2013, someone finally succeeded. RWBY, created by Monty Oum of digital entertain studio Rooster Teeth, follows four warriors as they train to combat the Grimm monsters that constantly threaten their futuristic homeward, Remnant, has earned not only huge audiences in the USA but around the world. Even stalwarts of Japanese anime are granting RWBY repeat and admiration. There's another kind of appreciation creeping in, though, one that's a little messier than just Tweeting "Nice work!"

Adult content based on and inspired by RWBY and its quartet of fierce young warrior women started popping up online a few years ago. Both custom animations made by fans and cosplay shoots from cam girls and adult models brought Ruby, Weiss, Yang, and Blake Belladonna to fans' screens, giving them a chance to live out fantasies born during a RWBY bing-watching session. Whether you've wanted to slowly unlace Ruby's bodice or aim for Blake's kitty-ears when cumming, RWBY's success has meant that - Rule number 34 applied - it would be pornified.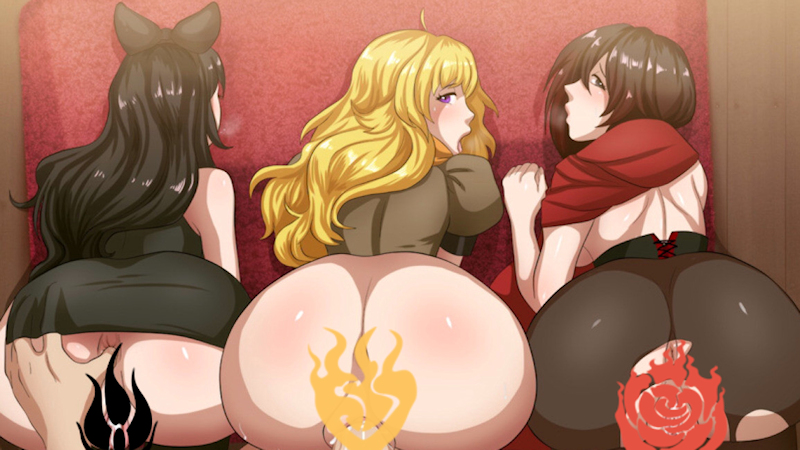 RWBY's success has meant that - It would be pornified!

A great source of adult-oriented RWBY content is PornHub, where viewers find the girls enjoying (or at least enduring) everything from futanari (chick-with-dick) girl-on-girl hookups to insane gangbang-by-monster-crew and fetishistic torture videos. Some keen fan creators have even put together 3D Virtual Reality scenes that let you imagine yourself an animated stud with his cock sandwiched between two heaving pairs of cartoon breasts, pushing RWBY smut into the VR world by force. The main quartet of characters make a smooth transition to adult content, their suggestive outfits and very short skirts giving DIY hentai creators ample opportunity to let their models dance and writhe about the screen, showing off their digital bodies before getting down to nastier, naughtier business. Some creators went for the JOI (jerk off instruction) niche, commanding you to obey Yangs demands for foot-and-toe attention and slave-like obedience over a series of still shots with raunchy captions.

Often aping RWBY's actual animation style, but even more often going for a simpler, more accessible brand of 3D motion, the homemade and semi-pro animations are possibly dwarfed in erotic power by the real life women, cam models mostly, cosplaying as Ruby and the girls. Whether pleasuring themselves in character or taking loads from a trio of Grimm monster dildos. Unfortunately, few adult cosplayers have discovered RWBY, or so it seems. The free porn world only hosts a few samples with the quality content tucked away at ManyVids and similar sites.

Arguably the closest you'll get to coming into contact with Ruby, Weiss, Blake, and Yang is via the limited supply of VR RWBY content. Though not the most smoothly delivered VR you'll have viewed, it is pretty amazing to be staring into the anime-eyes of your favorite foxy lil warrior girl as she wraps herself around your cartoon member. Once again, VR tops all other porno innovations, even when it comes to fan-made tribute videos!

The deeper you delve into the world of Remnant and the paths taken by the RWBY crew, you'll eventually move on from the four main girls and find characters like Kali Belladonna, Blake's mother, and her epic, highly original "ear fuck" scene that must be seen (in 1080p HD, no less) to be believed. If other creators follow suit, extending both the fantastic and sexual range of RWBY-inspired hentai, only the shattered-moon filled sky of Remnant is the limit!

In which directions would you like to see RWBY porn go, dear readers? Does VR heighten the fantasy or is a 2D rendering preferred? Should creators stick with our four main girls or branch out into secondary and tertiary characters? Share your thoughts below and maybe, just maybe we'll see RWBY's legion of artistic fans create some truly unforgettable homemade hentai.

Enjoy The Videos Here

Futanari:



Gangbang by monsters:



Dancing:



Yang's feet:



Cosplay: monster loads:



VR warrior girl:



Kali Belladonna ear-fucking: