Posted on September 13, 2018
Online gamers appeared to go utterly ballistic over a new Blizzard property about two years ago, leaving curious parties to wonder what it was about this Overwatch thing that had people flipping out on Facebook and tearing up Twitch with praise of its characters designs, personalities, and skill sets. Now considered one of the greatest video games of all time by many players and pundits, Overwatch and its cast of richly realized characters enticed players into a world of team-based combat and, true to pop-culture-meets-porno tradition, was soon found in homemade, semi-pro, and highly professional porn parodies both animated and live action, 2D and 3D.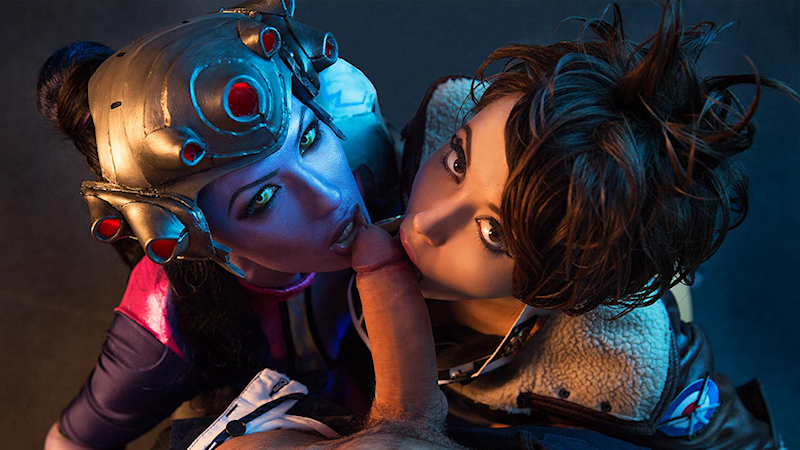 Overwatch Porn is popular in both 2D and Virtual Reality

PornHub, the obvious first destination on your hunt for Overwatch smut, offers a great introduction to the main crew of characters; or at least the ones you'll most likely be beating it to. Easily the most popular (and perved on) heroine is D.Va, an ultra-competitive former gamer and mech pilot driving her armored robot to victory. D.Va, in her skintight pink and purple catsuit, has filled many fantasies already, but the variety of characters makes Overwatch parody and tribute porn a much more satisfying viewing experience than most efforts to enforce Rule 34.

Joining D.Va as the subject of hardcore Overwatch tributes is Zarya, a broad-shouldered Russian soldier introduced to add some physical variety to Overwatch's female cast who, in porn tributes at least, often sports a hefty trouser cannon. Mexican hacker turned damage delivery agent, Sombra, who's often found on adult tube sites skillfully working a phallus; Symmetra, an Indian architech who's inspired some serious fuck-fantasies; French ballerina turned assassin, Widowmaker, arguably the most popular Overwatch fap-bait after D.Va, offers deep cleavage, purple skin, and insane skill with a sniper rifle.

Overwatch porn isn't limited to PornHub, of course, and most major tube sites now carry a decent little selection of homemade parody and tribute smut. There's even a healthy supply of Virtual Reality encounters that place you between the throbbing thighs of your favorite Overwatch heroines. At VRCosplayX, easily the most accomplished in-character VR experience around, Penny Pax plays Overwatch's Swedish engineer, Brigitte, unzips her mechanic's suit and takes a deep dicking. Penelope Cum drained a dick as Sombra before teleporting away forever. The awesome Megan Rain worked her super-fit magic as D.Va in an early VRCosplayX update, but the first this site unveiled is still the greatest in its archive. Overcrotch stars Zoe Doll as Tracer and Alexa Tomas as Widowmaker, the former looking like the spunky futurist pilot babe she is, the latter done up in body paint and colored contacts for an super-exciting VR threesome that ends with both of their mouths filled and overflowing.

Outside of VR encounters, there's still ample 2D Overwatch smut to tickle your boner bones. Shot by homegrown semi-pro camgirls, ManyVids carries oodles of Overwatch smut, from Felicia Vox's Mercy and D.Va treating your wounds and losing a bet to the amazing PrincessBerpl and Hidori Rose and their parades of costumed Overwatch carnality, to a perfectly cast and costumed Kitty LeRoux as Mei, everyone's favorite thick-thighed weather scientist, there's options galore. Hell, even those with group sex and domination fetishes can rejoice, 'cause ultra-curvy Canadian goddess Korina Kova recently unleashed "D.Va Defeated and Gangbang," which is even more fun as it sounds.

Overwatch Porn Videos To Enjoy

D.Va (filled many fantasies):




Zarya (trouser cannon):




Sombra (working a phallus):




Symmetra (inspired some serous):




Widowmaker (Overwatch fap-bait):



Mercy:



D.VA:




PrincessBerpl:




Hidori Rose:




Korina Kova:




VR Overwatch Porn Videos

Penny Pax:




Penelope Cum:




Megan Rain:




Zoe Doll, Alexa Tomas:



Where can Overwatch porn go from here? Should the focus be on VR so you can immerse yourself in the wildest game-inspired fantasies you can imagine, or is the 2D realm still the place to be, dick in hand, tube site loading, the desire to fuck D.Va absolutely overwhelming? Let us know what detonates the bomb of your libido, Overwatch fans!