Posted on July 13, 2018
Samsung may be best known these days for making the only smartphone to seriously threaten the reign of Apple's iPhone, but it's Galaxy range of devices isn't only good for passing memes around, spreading fake news, and ogling whichever insta-babe has taken your fancy. When paired with Samsungs Gear VR headset, your Galaxy phone becomes a powerful Virtual Reality player that can handle pretty much anything the adult VR world has to offer. And, best of all, getting your Gear VR pumping with the hottest in virtual smut is a cinch!

Inserting your compatible Galaxy phone into a Gear VR headset's front panel and making the USB connection between the devices will launch an onscreen prompt. Sure, you've just put your headset on, but follow the prompt and remove it to install the Oculus app. (An Oculus account is required; if you don't have one, register and log in.)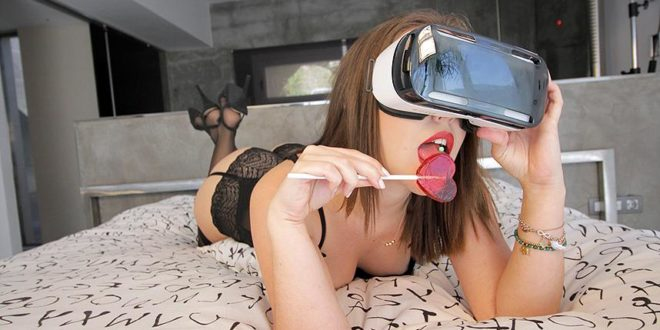 Watching Porn On Gear VR

The easiest, fastest route to VR sex is to stream. Though some adult VR vendors don't offer streaming VR, many do and they're easily found. With your Galaxy reconnected to Gear VR, strap it on and enter the Oculus interface. Locate Oculus Browser or Samsung Internet and direct the app to your preferred source of VR porn. Virtual Porn is host to a great range of clips and movies that will get you pointed in the right direction… if you know what I mean. Once you've found an appealing scene, hit Play and enjoy!

For smoother playback and an overall more immersive VR sexperience, streaming falls far behind local playback, either from your phone, your PC or your network storage device. If you use a DLNA server like Plex or Serviio, the Samsung VR app allows you to playback your VR downloads over your local network. Plex now even offers a dedicated VR player app. Since VR video file sizes tend to run well past 4 GB, most phones' storage will prove inadequate, making server-based playback the best bet for any devoted VR fan. Both Plex and Serviio offer comprehensive setup guides and tutorials, but if you're already familiar with DLNA media streaming, you should be watching high-quality virtual smut without any real inconvenience!

For simplicity's sake, it's hard to beat the quality and usability of Samsung's Gear VR. And with multiple playback options for streamers, phone fiends, and home server operators, Gear VR can be easily integrated into anyone's regular erotic routine.

For the full, in-depth detailing of each step of the Gear VR porno playback process, check out our full Gear VR device guide.