Judging by the quality of porn stars, VRHush is looking to be one of the next big names to go alongside BadoinkVR and WankzVR. However, this relative newcomer falls behind in a few respects, meaning it has some way to go before it joins the big boys. But don't be put off, there's some excellent content in there, and a few original ideas too.
VRHush isn't doing things by halves. Ella Knox, Kristen Scott and Dani Daniels? These are all beautiful women, and major players in the porn industry because of it. While we should welcome any studio that creates more adult virtual reality content, VRHush has a number of frustrating technical issues that stop it becoming a must-subscribe site.
Firstly, the tendency to film in 360 degrees. Some viewers do prefer this style, and true, it feels more immersive to be able to look around you and feel like you're actually in the setting itself, but the pay-off is a reduced image quality due to the need to film the action using a vertical split. In fairness, VRHush manage this a lot better than most, and the excellent lesbian scene between Karlee Grey and Ella Knox is a perfect example of this.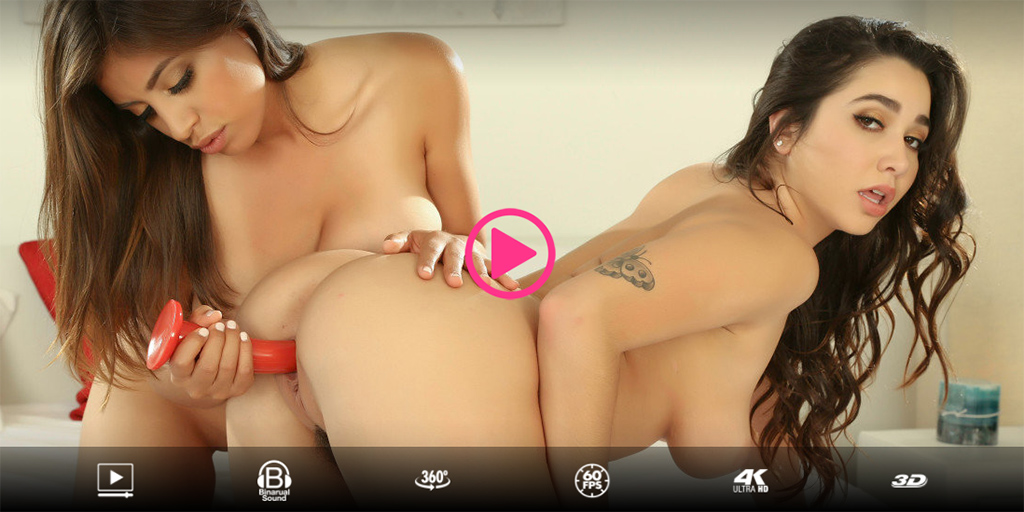 It opens with a view of Ella in the shower, while Karlee has a bath in the same room. The quality is surprisingly crisp and clear, with a bright, calming feel - enhanced by the view of these two big-titted brunettes walking around in the nude. From then, it turns into a standard lesbian scene, with you as the voyeur. As far as voyeur scenes go, this is up there with the best - though it would be nice to see Ella in some boy-on-girl action. Karlee is a seasoned pro at VR porn, but she's still yet to star in a true classic - hopefully VRHush will set one up in time.
On the other hand, 'Her Wedding Surprise', featuring Abella Danger, suffers from the VRHush filming style. It's another voyeur scene but the boy-girl action feels way off in the distance and it's difficult to make out any detail. The image quality is reduced further by the huge VRHush logo at the bottom of the viewing panel - it's not visible when watching the scene itself but this branding is pointless and only serves to degrade the quality of the visuals.
Confusingly, some VRHush videos are filmed using the horizontal split, for scenes when only a 180 degree field of view is required. 'Pool Side Pole Dancing', featuring Anya Ivy, is one of these and the improvement in quality is instant. Anya is a natural, making great eye contact and taking delight in showing off her incredible body. It's a standout scene and one of Anya's best videos, in both VR and standard porn.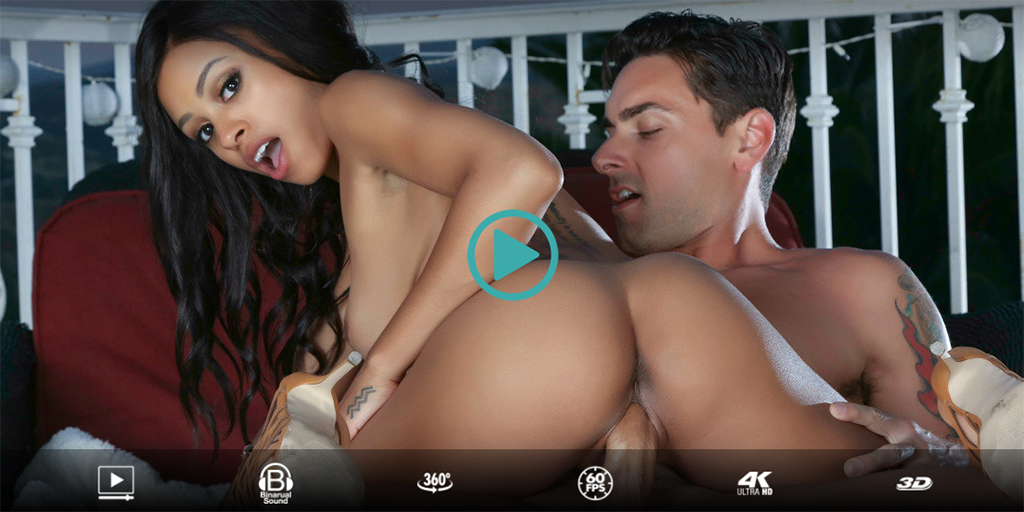 When VRHush get it right, their output is unbeatable. They have a knack of filming superb voyeur scenes that make you feel like you're actually there watching, and part of the action. 'No Time For Yoga', featuring Aubrey Adams and Derrick Pierce has been released in both POV and voyeur formats (a welcome trick, that more VR porn studios should adopt), and for once, the voyeur action is best. It's a hot sunny day and you're stood by the side of the pool while Derrick ploughs Aubrey hard and fast, both going at it with genuine enthusiasm. It's great scene, with no phony acting, and other than the overly-long yoga based intro, one of the VR porn voyeur classics.
The variety of women is another thing in VRHush's favor. Blondes, brunettes, big tits, small tits, fake tits and a nice range of ethnicities - the brains behind this studio clearly know what they're doing and we can only hope they fix the image problems. There are rumours that they're in the process of filming scenes in both 180 and 360, which should keep both sets of fans happy.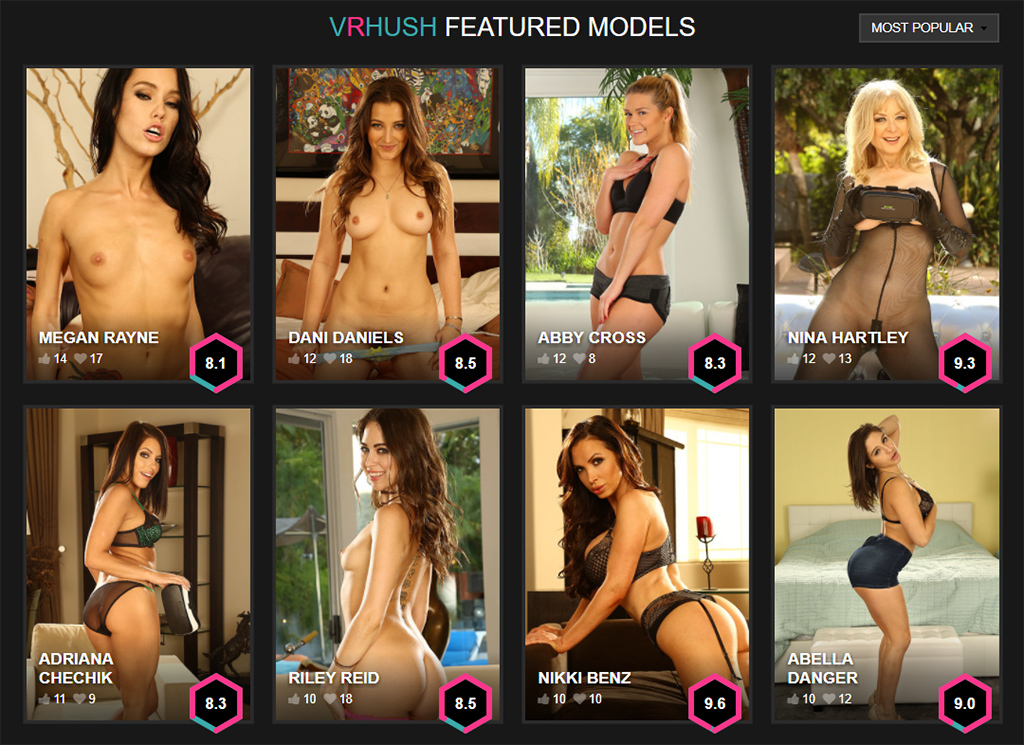 Is it worth subscribing? It's a tentative yes. The site has been producing scenes since late 2016, so there's plenty of content in the archives to go through. The quality of their videos is improving over time, with hotter set-ups (banging Kristen Scott while her mom is in the next room is a particular highlight), and they have a great range of high-profile stars. It isn't just vanilla sex either, you'll find some hardcore POV threesome action - the best is 'Frat Brothers Stick and Cum Together', which involves petite pornstar Mila Jade working up a sweat fucking and sucking two dicks at the same time.
Update frequency
VRHush releases a new video once every five or six days on average, meaning you get around six brand new videos each month. These updates aren't regular, and some can be just four days apart, while others anything up to eight. It's a good number for each month, better than plenty of rival studios.
Price
$25 seems to be the standard monthly subscription for VR porn, and VRHush is no exception, weighing in at $24.45 per month for the standard offer. A yearly subscription brings this down to $8.30 a month, which while an impressive improvement, isn't quite as low as some sites. Considering VRHush puts out slightly more content each month than many of the other smaller studios, this price is reasonable.
Actor variety
The female porn stars are taken from the same pool as the more mainstream, bigger VR porn sites, such as BadoinkVR and Naughty America VR. This means you'll be virtually fucking the likes of Riley Reid, Abella Danger and Karlee Grey. All big-name, top-tier adult actresses. There aren't many stars unique to VRHush, but there a few notable VR porn one-offs, including a must-see seedy scene from the cute-as-a-button Mila Jade.
Scale / Distortion
On the whole, the scaling is passable but there are some scenes where the action seems a touch too far in the distance. VRHush dabble with 360 degree views, which some people are fans of, but can be frustrating as they invariably reduce the accuracy of the image when it comes to proportions. This isn't so noticeable when watching voyeur videos, but becomes a real issue in the point-of-view videos.
Video quality
As above, the reliance on 360, means many VRHush videos are filmed using the inefficient 3DV format. These vertical-split videos means a lot of wasted pixels, and a reduced image quality. However, this isn't always an issue, and some skillful directing can hide this in some cases. Also, some videos are filmed side-by-side, presumably when 360 degrees isn't desired, and the quality of these videos is generally great.
Download speed
Videos from VRHush generally weigh in at under 2gb - around 2gb for Gear versions, and less for smartphone videos. This means they download swiftly, with no speed problems from the site.
Bonus content
There are no bonus features of any note from VRHush, other than a now-abandoned behind-the-scenes blog on the site, which looked at subjects such as codecs and how VR porn is filmed. It's far from essential reading and all information you can find better elsewhere.
Conclusion
VRHush are doing exciting things in the world of VR porn, and while their competitors in the mainstream 3D porn game tend to repeat themselves with similar set-ups and sex acts in each video, VRHush is pushing things further by employing some original ideas and techniques. Producing both POV and voyeur videos of certain scenes is a promising start, and there's a great back catalog of stunning porn stars to get to grips with. 360 fans will be especially pleased, as a high proportion of their content offers a full-circle viewing window, but many viewers would prefer to sacrifice that in favor of better image quality.