Virtual Real Porn was a game changer when it came to VR porn. It kickstarted the whole thing over three years ago, long before many current high-profile virtual reality studios even knew what it was. They delivered videos containing superb image quality, smooth framerate and some fantastic performances by the most beautiful women in porn. It has the biggest library of 3D videos available by any VR studio, and many of the early videos stand proud today as some of the best examples around.
Virtual Real Porn is the daddy of 3D sex, in more ways than one. As the very first major virtual reality porn studio, this was the introduction to VR porn for many of us early adopters. And we weren't disappointed.
They kicked things off in 2014, with a set of videos that put other late-to-the-party studios to shame. The clarity of image on these early videos was mind blowing for the time, and still stands up now, despite being largely geared toward smartphone devices. It wasn't perfect and there were problems in some respects - the edge of the videos were often stretched or blurry, and some even had a restrictive 120 degree field of view, but the sheer ambition of these prototype scenes can't be underestimated.
They were the first to offer up varying perspectives, with plenty of voyeur scenes and female POV videos. Obviously, these didn't prove as popular as the classic male point of view, but there are still a number to choose from if alternate viewpoints are your thing.
Arguably the best aspect of Virtual Real Porn was their willingness to listen to the consumer. They reacted to comments and criticism lightning fast, and set the tone for all future VR porn companies. Early videos had a lower framerate than the now standard 60fps, but VRP soon amended this, as well as employing better, more realistic camera angles.
Some of these early videos can still be considered classics today. Anissa Kate's debut VR porn video, 'Estate Agent' from May 2015 is one of the best.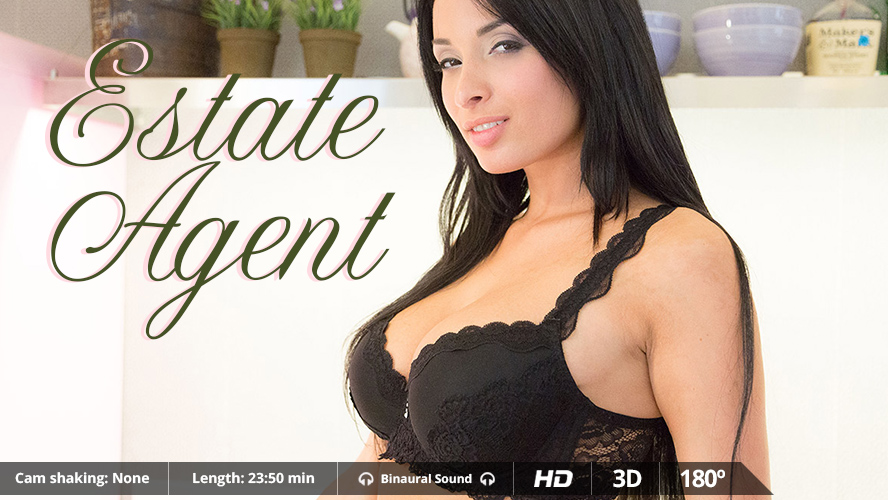 With excellent lighting, sharp images and smooth framerate, it looks better than some rival studios recent offerings, even now. Of course, it lacks some of the more recent innovations, such as varied sex positions and kissing, but fans of the stunning French pornstar will be in heaven.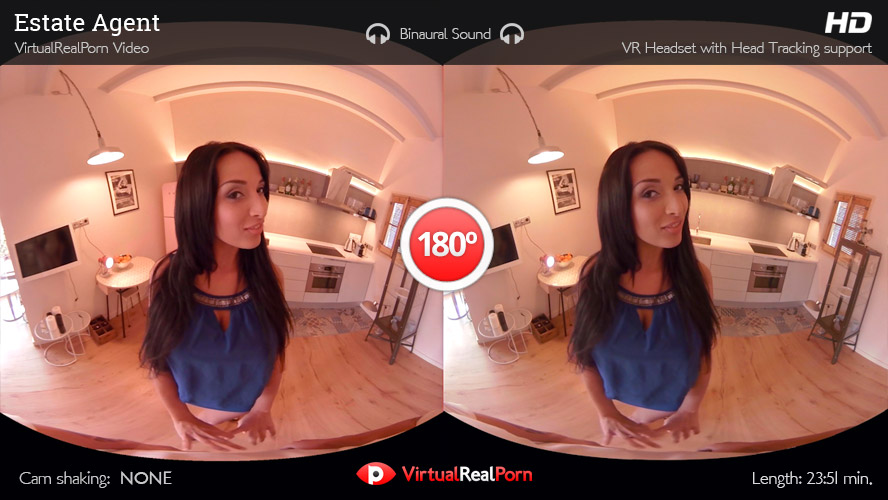 Lynna Nilsson's 'Doorstep Seller' is another gem, despite using the unpopular 3DV vertical split for the footage. The scene is impressively immersive, with a believable set-up and only let down by the poor camera angles during the sex.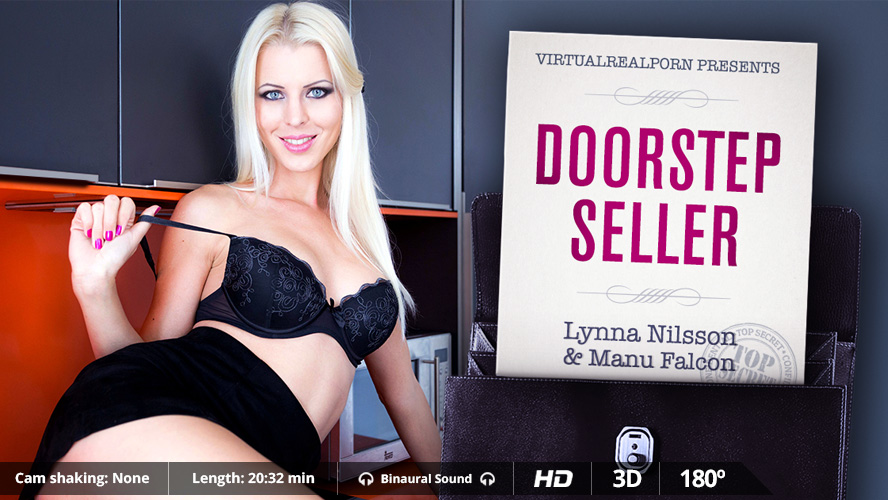 No such problems with the busty Harmony Reign's legendary 'The Rehearsal' video. Here we have Harmony looking at her best, blonde and beautifully-lit, with those massive tits oily and up front and central. This is a must-see for any fans of Harmony, or big breasts in general.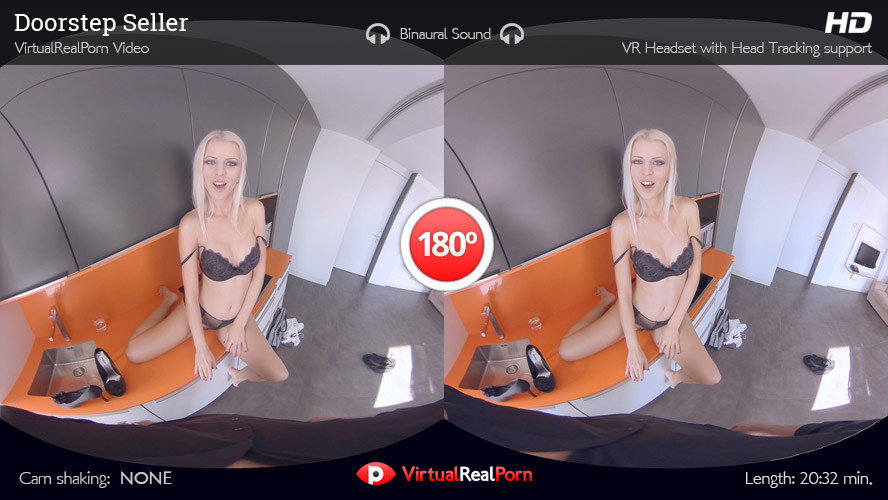 Their recent content is good, with improved image quality and a slick 60fps framerate, but is somewhat overshadowed by WankzVR and Naughty America VR when it comes to the quality of the girls and immersive feel. The standard location is a plain bedroom or living room with little narrative build-up, although the doctor's surgery in 'Happy Doctor's Day' is a welcome change. Apart from some high-profile names, the girls are mostly European so engaging dialogue isn't a high priority except when it comes to seasoned dirty-talk professionals like Misha Cross and Amarna Miller.
The attractiveness of the girls is a mixed bag. For every passionate scene with the likes of Amirah Adara or Blondie Fesser, there's a bored east European girl going through the motions. Thankfully, there are over two hundred videos to choose from, with at least two new scenes each week, so you have plenty to choose from. The monthly subscription is just $19.95, going down to $7.49 when you sign up for a year, which is a great offer considering the strong back catalog of scenes.
The variety of scenes is a major plus for the experimental viewer. Fisting, facesitting or footjobs - whatever kink you have you'll find it here. Although when it comes to straight sex, the same angles and positions are repeated over and over. This isn't always an issue, and they do tend to get the most captivating shots of girls in cowgirl and doggy style positions. Anal fans are in for a treat. Virtual Real Porn features more anal scenes than any other VR porn site, including backdoor action with stunning stars such as Kirsty Black and Anna Polina.
Despite having more scenes on offer than any other virtual reality porn studio, the filmmakers do tend to use the same girls more than once. So even though they have over two hundred videos in the archives, they actually feature a total lower number of pornstars than either WankzVr, Naughty America VR or BadoinkVR.
The website is a little tricky to navigate, and it's sometimes tricky to find the exact scene you want, especially if it's from pre-2016, but this is a minor criticism. However, they do accept bitcoin which is a major plus for privacy fans. The 'streaming only' option is affordable at just $9.95, but the inability to save your favorite videos and the risk of your connection dropping at a critical moment means this offer should be avoided.
Most scenes are around 30-40 minute length, although the earlier ones average out at 20 minutes. The 'All Day Long' scene is an interesting attempt at innovation, billing itself as the world's first 'interactive' porn scene. This involves using the Virtual Real Player app and lets you decide whether to fuck Lady Dee or Karolina Starr. The total length of this is an impressive 93 minutes - perfect those with plenty of time on their hands.
The unreliable quality of recent scenes means a subscription to Virtual Real Porn is no longer an essential purchase, but for those interested in how 3D porn has progressed over the years, and want to see some standout scenes by amazing VR porn actresses, it's well worth checking out.
Update frequency
Virtual Real Porn delivers up at least two brand new scenes each week, beating all its rivals. However, many of the same porn stars appear over and over, which can feel boring and monotonous at times.
Price
The monthly subscription price is at the low-end for a site with such a large back catalog and such regular releases. However, a recent drop-off in quality means it isn't as much of a bargain as it once was.
Actor variety
Many of the same porn stars are used over and over again. The majority are European, with a few Asian pornstars, but overall the ethnic diversity is fairly low.
Scale / Distortion
Some early videos had the scaling all wrong, leading to unfortunate and unrealistic camera angles. However this was soon resolved and now all the videos are realistic and immersive.
Video quality
The video quality is consistently great. While not quite as sharp and crisp as some studios, it's still one of the best.
Download speed
Videos download at lightning fast speed, but the website can be tricky to navigate, especially when searching for older videos.
Bonus content
There's no bonus content to speak of, although the site does offer the unusual option of streaming only for $9.95 per month. For the inconvenience and limitations this would mean, especially for smartphone users, this should be avoided.
Conclusion
As well being the first VR porn studio, Virtual Real Porn led the way for months when it came to innovation and improvements in the quality of virtual reality sex. A recent drop-off in quality has seen it overtaken by rival production companies, but the affordable price and strong library of scenes by major names in porn remain a strong draw. It might not be the best anymore, but if you're a completist it's a worthy addition to your portfolio of VR porn subscriptions.