It's not one of the most high-profile VR porn studios, but European studio Virtual Porn Desire is making waves in the industry. With an edgier and more experimental approach, they offer scenes and videos that you won't find anywhere else. The focus is on voyeurism, but you'll find a good number of POV scenes with impressive production values. The main drawback is the library of videos. This is frustratingly low, considering how long they've been active.
Virtual Porn Desire is a relatively new 3D porn site, with just over a year of VR releases. It's another European site, and unsurprisingly, so are most of the models. There are a few big names, such as Amirah Adara and Gina Gerson, but in the main, you're looking at fairly unknown East European actresses, with little grasp of English. Again, not necessarily a bad thing unless you rely on a strong set-up and plenty of dialogue for immersion.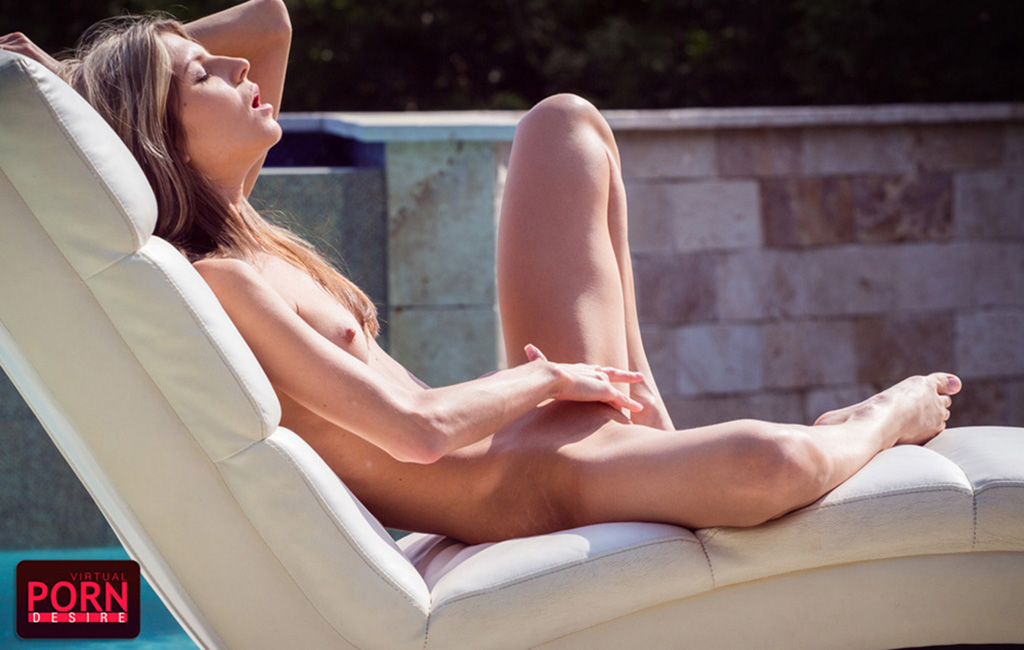 But we've heard this before. These European virtual reality porn studios are a dime a dozen. What makes Virtual Porn Desire different to the rest? One word: voyeurism. The Virtual Porn Desire style of video is heavily focused on voyeurism. But this isn't voyeurism in the plain old boring sense of the word, simply watching a women go about her business. This is porn voyeurism. As such, many of the videos feature you watching a porn star get fucked by another guy. You're not involved in the scene and there isn't much in the way of cucking - though don't be surprised if Virtual Porn Desire move onto this in time.
This means the action is a bit more, well, active, than the sex on offer in straight POV 3D porn. For example, in Cindy Loarn's excellent 'Drilled By The Pool' scene, the fucking is hard, fast and aggressive, with plenty of slapping and multiple positions (the shot of both actors fucking furiously while standing up is especially well shot). It's basically like watching standard 2D porn, but being in the same room as it happens. This might not be for everyone, but if there's a bit of voyeur in you, you'll love it.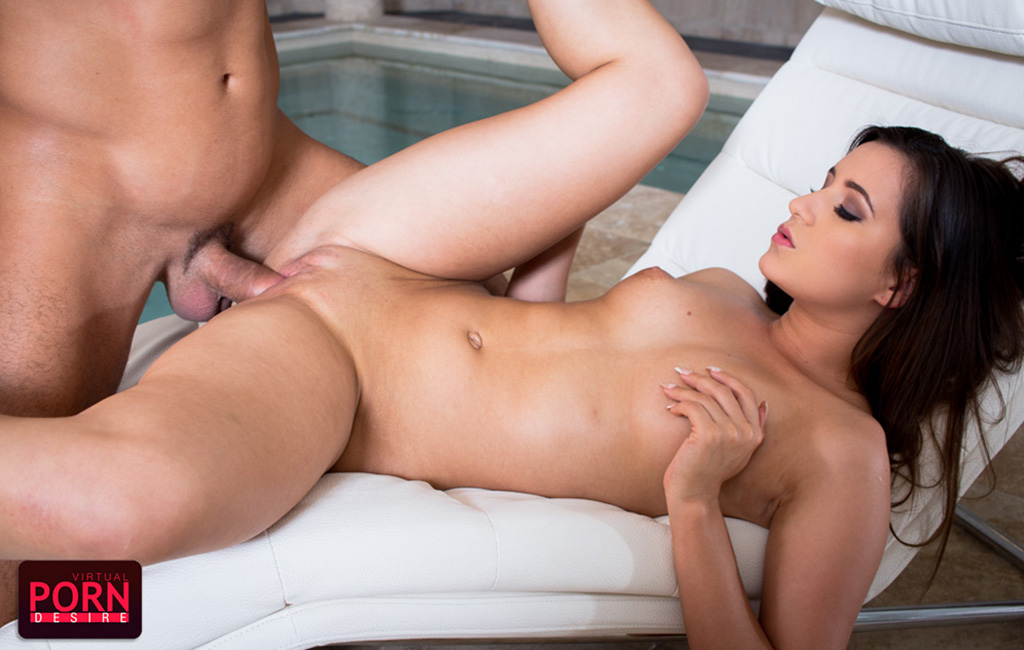 The other interesting feature of this video is the use of a roaming camera. This means the camera moves smoothly around to capture the best views of the couple - with Cindy up front and central, of course. Czech VR have been using this technique lately too, with mixed results, and the same applies here. If you get nauseous easily in VR, this filming style will make you feel ill. The camera movements are smooth but can shift quite quickly, making for the occasional stomach lurch, especially if you're sensitive to unpredictable movement in VR. This doesn't apply to everyone, and for those with stomachs of steel this is a must-see scene that bridges the gap between traditional porn and 3D videos brilliantly.
Gina Gerson's 'By The Pool' video is another great scene. As you can see, the pool is a common - and very welcome - location for Virtual Porn Desire scenes. This time we're out in the sun, and Gina's tanned body looks fantastic under the bright blue sky. This is one of the first-person POV scenes, and there are a few minor problems with perspective, with the male actors head feeling slightly too high for his body. Despite this, the image quality is superb - crisp and sharp with smooth lifelike framerate, and Gina's head and body are rendered accurately, without any distortion.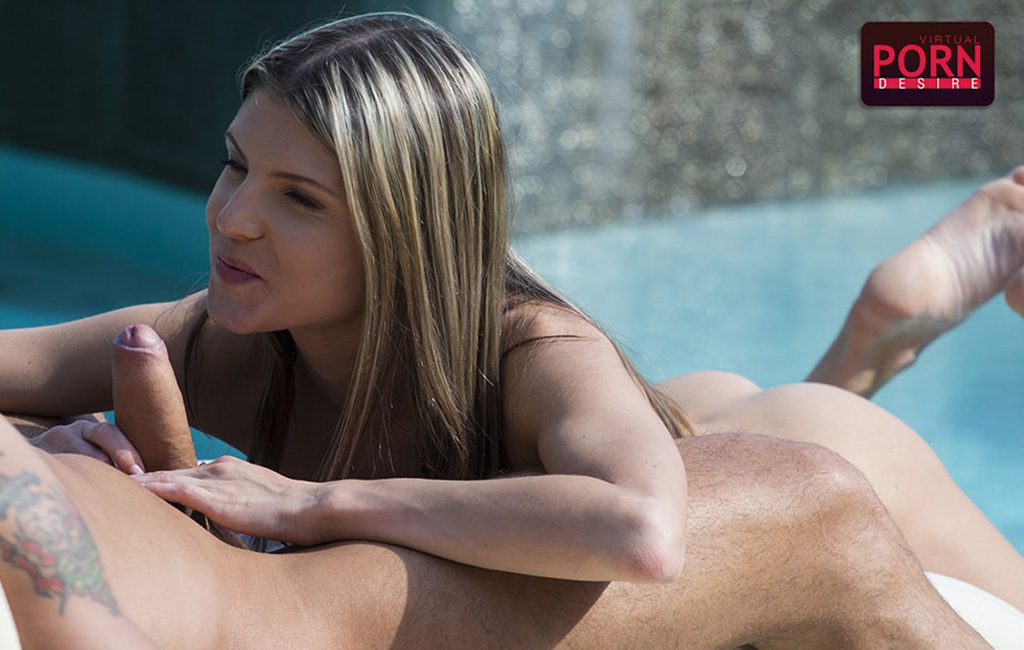 Some of the videos, particularly the ones set inside, have darker lighting, making for a more intense, hostile feel than some of the lighter, cheerful scenes by American studios. The action isn't especially violent, but the vibe is darker than most VR fans might be used to. For example, Amirah Adara's two 'Happy End' videos. These begin with her being massaged but this soon turns into aggressive fingering with Amirah held tight in a headlock. Of course, Amirah is no stranger to these kind of hardcore scenes, but viewers more used to the vanilla sex on offer in videos by Naughty America VR and WankzVR might be in for a shock.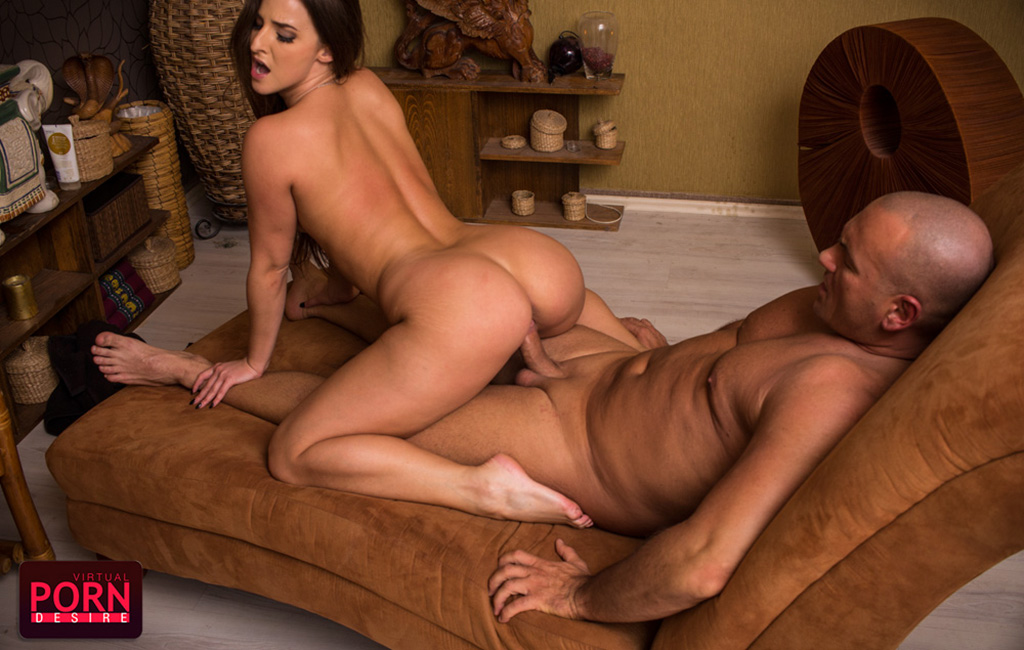 The monthly subscription is $14.99, which is certainly at the lower end compared to rival sites, going down to a mere $7.50 if you take out a yearly subscription. Frustratingly, there's no option to download one-off videos, but the site is well laid-out with plenty of free trailers to download for each scene.
Sadly, the updates are few and far between. With only one update each week, it's hard to justify paying for a subscription. Plus, at time of writing, there are less than thirty scenes available in the archives, which is surprisingly low considering they've been around for over a year. It's a shame, as Virtual Porn Desire are filling a niche that no one else and doing it with a high-quality rig and some good quality experienced VR porn stars. If they branch out and involve a wider range of porn actresses, not just relying on East European models, and ramp up the release schedule Virtual Porn Desire could become one of the standout VR porn sites.
Update frequency
The update schedule is both low and sporadic. We have not seen a new release in over 7 months. This poor release schedule is unacceptable considering some rival studios put out more than two videos each week.
Price
The price is low but so is the release schedule, making this a purchase for only the most dedicated VR porn fan. The lack of ability to buy individual videos is a missed opportunity as some of the content can be classed as must-see in VR porn terms.
Actor variety
As to be expected from a European VR porn company, the girls aren't ethnically or physically diverse. It's a procession of slim, mostly-brunette women, with little grasp of the English language. There are some famous names involved, such as Gina Gerson and Amirah Adara but these can also be found working for other VR porn studios.
Scale / Distortion
Most videos are voyeur-based, so it lacks some of the issues that straight POV studios might have. The POV videos available are shot well, with little distortion, though there are some minor problems with camera placement.
Video quality
The image quality is great, particularly on outside shoots in sunlight. The indoors footage has a darker tone, which often matches the content.
Download speed
The site is quick and reliable, and well laid-out.
Bonus content
There are no notable bonus features that come with a Virtual Porn Desire subscription.
Conclusion
Virtual Porn Desire's content is limited, and the release schedule is sporadic at best. This is disappointing as the content is good quality, with all scenes shot on an excellent high-end VR rig, and including action that you won't find on any other of the mainstream virtual reality porn sites. There are a number of good quality first-person shoots but voyeurism is where Virtual Porn Desire excels. These videos range from good quality solo scenes with high profile names, to more hard-hitting hardcore videos with a sometimes-nauseating roaming camera. The low number of scenes in the library and poor release schedule means it's hard to recommend a subscription, but we highly advise downloading trailers of the scenes mentioned.