Reality Lovers is fairly new to the virtual reality porn industry, only recently celebrating their first birthday. In that time they've built up a library of impressive videos, with a range of talent. Although their actresses are mostly East European, there are plenty of recognisable names and imaginative set-ups to help this studio stand out from the crowd. The other big difference is the tone of the scenes - there's a classy, luxurious mood to the videos, which is rare in the porn world.
At first glance, Reality Lovers seems like yet another unexciting European VR porn studio. Dig a little deeper and you'll find that they're doing things a little better than most.
As with most of their fellow European studios, such as Virtual Taboo and Czech VR the video quality is excellent. The footage runs at a reliably smooth 60fps, along with binaural audio and cinema-sharp image resolution.
The beautiful Kirsty Black makes more than one appearance, beginning with 'Kirsty's Mirror Play'. Here, she looks at her all-time best, stood in front of a full-length mirror before stripping off and masturbating. Solo scenes can often seem dry and dull, but this has an elegance that's all too rare in VR porn. Even if masturbation scenes aren't your favorite style of video, this is well-worth a watch.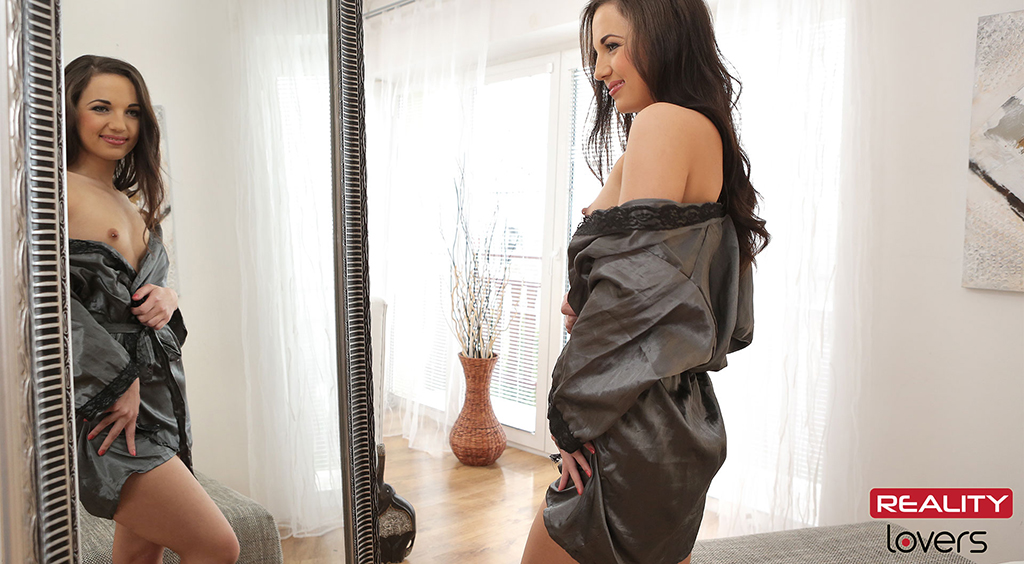 They're also one of the few studios to persist with the female point of view. Never the most popular type of video, for obvious reasons, nevertheless it's admirable to see this studio is still catering for non-heterosexual males. But don't be put off if this isn't your bad, these videos only come out once every few months.

More interestingly, they're pushing boundaries when it comes to other types of video. While most modern VR porn studios stick with the tried and tested male POV and one girl, Reality Lovers recently tried out a very interesting experiment with an orgy-style video.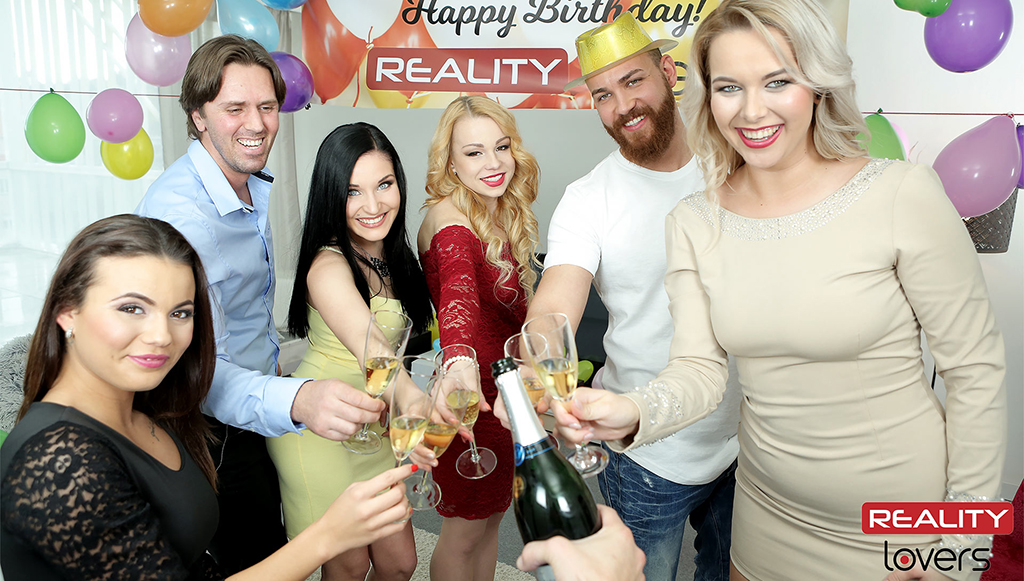 When done well, VR porn scenes with multiple participants can be some of the most engaging scenes out there. 'The Great Birthday Orgy' is a perfect example of this. Released in May 2017 to celebrate their first birthday, this is a 30 minute scene involving highly regarded VR porn actresses Nikky Dream and Vanessa Decker, along with relative newcomers Rebecca Black and Lucia DeVille, and three men, including the viewer.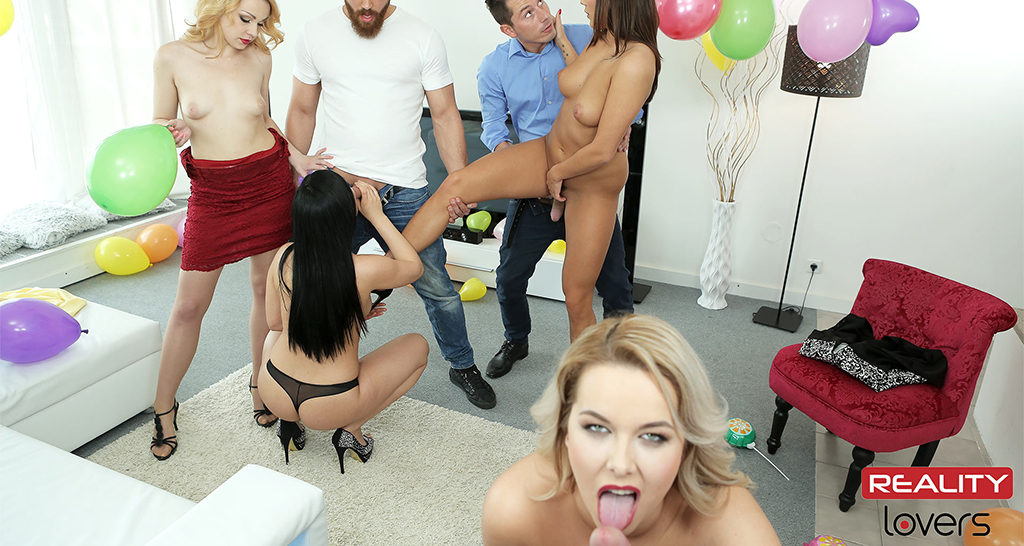 This fantastic scene involves the four amazing looking women, cheerfully fucking each man in turn. But best of all, there are two versions of the same scene, with different choices of viewpoint. One has you as a direct participant, with the section involving Vanessa Decker standing out as one of VR porn's all-time highlights, while the second video involves the same men and women but this time filmed from the voyeur's point of view, with no active involvement from the viewer.
This POV Vs Voyeur perspective option is something they've applied to other videos since. And this is the kind of forward-thinking that elevates Reality Lovers above the rest. The talent is reliably good too. Bella Claire stars in another great video, 'Work That Ass', which sees you lay down in a gym while Bella straddles your virtual cock. The lighting is excellent, the scene is full color and everything in sharp high definition focus, while Bella delivers the performance of her life.
The archives are full of great quality scenes like this. The porn names aren't the biggest, but even the less well-known models, such as Linda Sweet, are attractive and put on a great show, time after time. In the main, the girls are slim, white and from eastern Europe. This might sound remarkably similar to Czech VR and Virtual Taboo but here the quality of talent is notably higher, featuring top virtual reality porn stars such as Anny Aurora, Francys Belle and Arya Fae.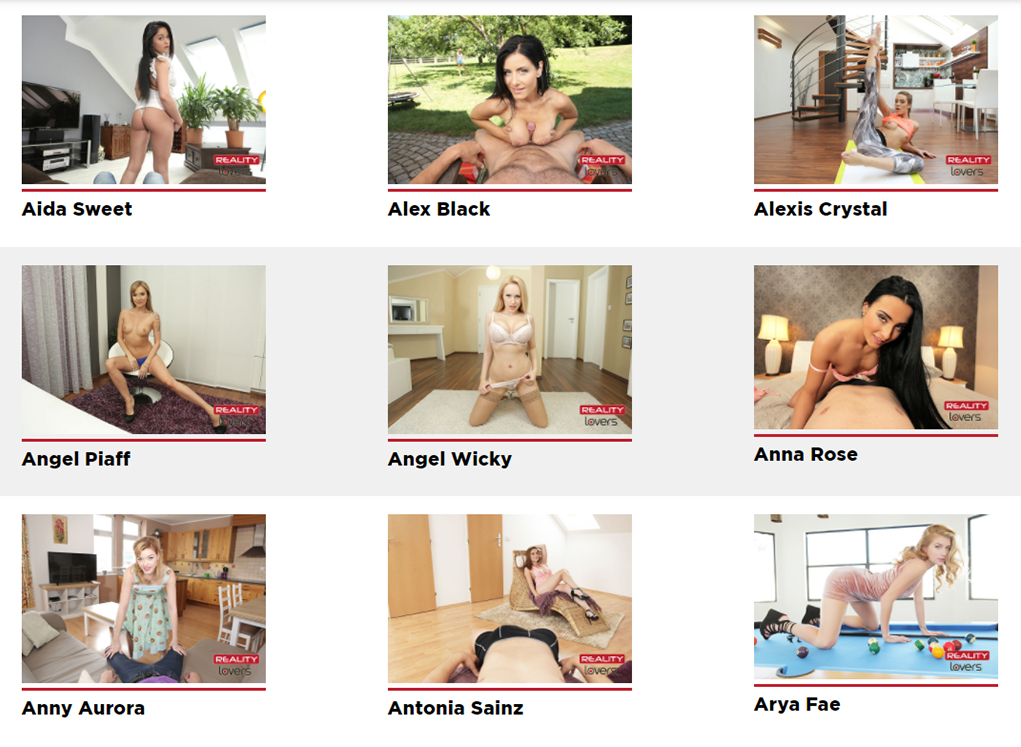 Across all the videos, there's a subtle sense of sophistication lacking from the more cartoonlike studios, like WankzVR and BadoinkVR. Most the actresses hold themselves with a refined charm, and while dialogue is generally limited, there's a real sensation of tastefulness when compared to the wham bam slam of the American virtual reality porn companies.
The pricing system comes as a bit of a let down when compared to rival sites. A monthly subscription is a whopping $29.99, the highest rate out there, while a quarterly sub brings this down to $17.50. There's no yearly subscription on offer, surprisingly, although there is the single billing option, where you can pay to download one, three or five videos. One video will cost an almost extortionate $9.99, while bizarrely five videos costs less than three ($24.99, rather than $24.99).
At the moment, the site holds just over one hundred scenes though this is rising rapidly as the release schedule is more regular than most, with around two or three videos released each week - though it's worth noting that includes both the POV and alternate voyeur style videos.
Update frequency
Reality Lovers releases more videos each month than any other VR porn studio. However, some of these are variations on the same scene (POV vs voyeur) so while still impressive, it isn't all-new content for each release.
Price
The pricing structure is complex and not very user-friendly. The standard monthly rate is the highest out there, and even with a discount this only comes down to $17.50. Considering plenty of monthly subscriptions are $19.99, this isn't a great deal. Single billing options seem like the best bet, but again this is confusing, with five video downloads proving cheaper than for three videos.
Actor variety
The talent used on Reality Lovers are mostly white, slim and East European. There are some variations but this is mostly the case.
Scale / Distortion
The accuracy of the image is near-perfect. The actresses have correct proportions and nothing is warped or distorted.
Video quality
The image is crisp and colourful, with everything rendered in pixel-perfect high definition. Reality Lovers have one of the best rigs out there when it comes to VR porn.
Download speed
There are no problems with downloads from the site. The speeds are good, and while the site could be easier to navigate, there are no glaring issues.
Bonus content
Reality Lovers don't offer up any bonus content, other than the choice of POV or voyeur perspectives with certain videos.
Conclusion
Reality Lovers is a cut above the standard European VR porn studio. Their videos have a certain class and grace that others lack. You won't find any aggressive anal scenes or unusual fetishes, rather the focus is on attractive women in elegant surroundings, with an emphasis on fun and sophistication. The video quality is second to none, and if you're a fan of the general type of actress on the Reality Lovers roster this is a great way to start your VR porn journey. The main drawback is the price. It's one of the most expensive sites out there, even when factoring in discounts. We recommend trying out the single billing option for five videos, and if the style and content is for you, only then consider a quarterly subscription.