Naughty America is one of the bigger names in standard 2D porn, so hopes were high when they launched their virtual reality spin-off in 2015. Despite a few early quality issues, the content improved dramatically, in both image quality and scenario. With twice-weekly updates and a lengthy back catalogue featuring some of the finest adult movie stars, they stand tall as one of the leading VR porn studios to date.
Naughty America VR's porn scenes sit in that sweet spot between straight-up porn and plot-led adult movie. If you want more bang for your buck than just a girl in a bare room, then start here. While they never stray into the long-winded narrative you might find in a typical WankzVR video, there's a pleasing variety to the scenes and set-ups that helps keep things interesting.
For example, you can find yourself fucking a customer in a tattoo shop, screwing the babysitter or picking up two girls on a tennis court. Obviously, narrative content isn't a key factor when it comes to porn but there's a sense of originality and fun to these settings that is notably lacking in other sites, particularly from the cheaper East European studios.
But with porn, it always comes down to looks. And Naughty America VR have the cream of the crop. From up-and-coming babes like Lily Jordan and Kylie Page, to established stars such as Julia Ann, Keisha Grey and Rachel Starr, they're all here. Hell, they even have Remy LaCroix's only existing VR porn scene. That's worth the price of admission alone.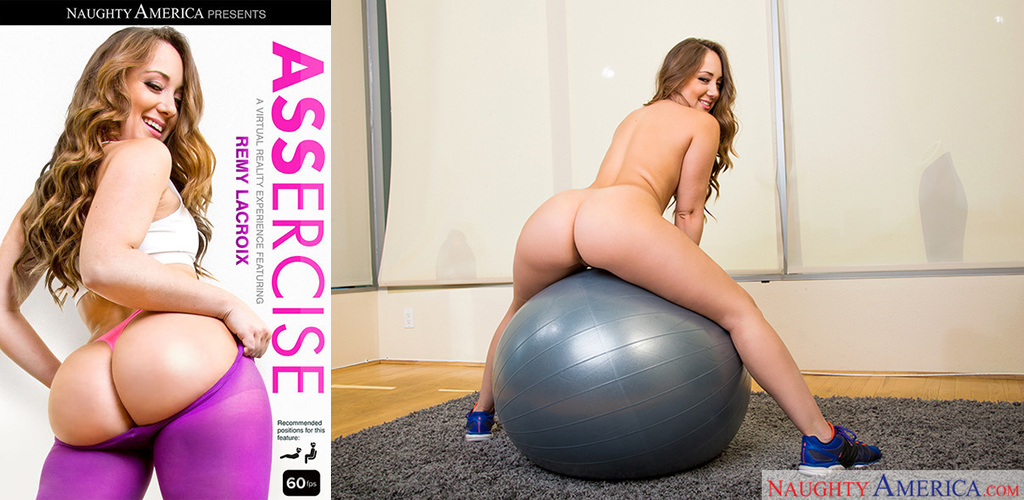 Most Naughty America VR scenes use the standard porn structure - starting with a strip tease, then rotating through the most common sex positions. Thankfully, most videos get the blowjob part over with quickly, moving onto the main action before things get boring. But you'll also find plenty of fantastic full-body shots and positions that put tits and ass up front and central. Check out the incredible Leah Gotti scene for the best example of this.
The overriding feel of Naughty America VR's videos is fun. The girls are always confident and upbeat, keen to put on a great show. Dirty talk and kissing is a big part of most scenes, and always done well and believably. The actresses play their role - whether it be pupil, casual hookup or wife's best friend - with easy charm, and rarely over-acting. Don't expect miracles - they won't be winning Oscars anytime soon - but in terms of porn, this is impressive stuff.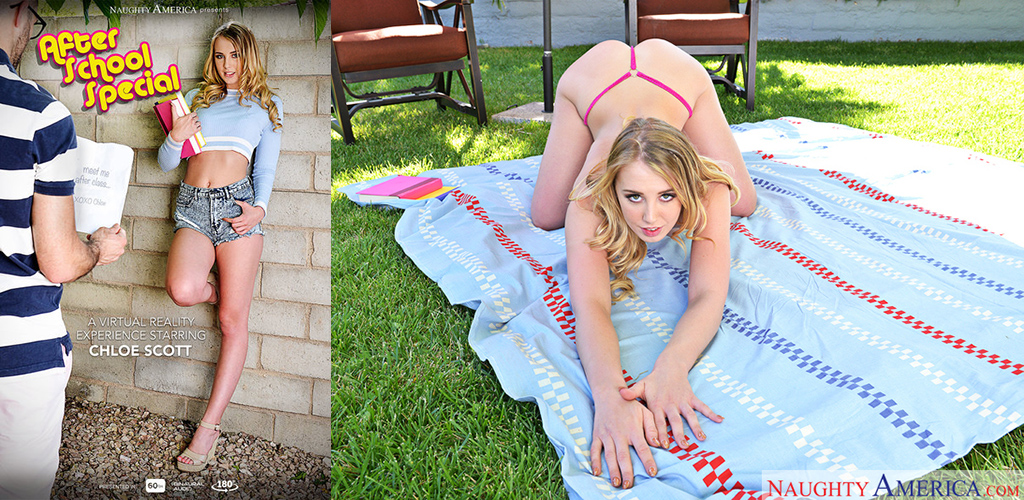 You won't find much in the way of rough sex or fetishes. This is a mainstream VR porn site so some ass-slapping, creampies and foot fucking is about as extreme as it gets. There's a good mix of body type and age, though most actresses are in their early 20s, as with standard porn. Racially, things are slightly on the conservative side. The vast majority of girls are white and American, though you can find a couple of black or Asian actresses in the archives, plus a handful of videos with Latina porn stars. That said, the focus on English-speaking girls does make for a more engaging experience.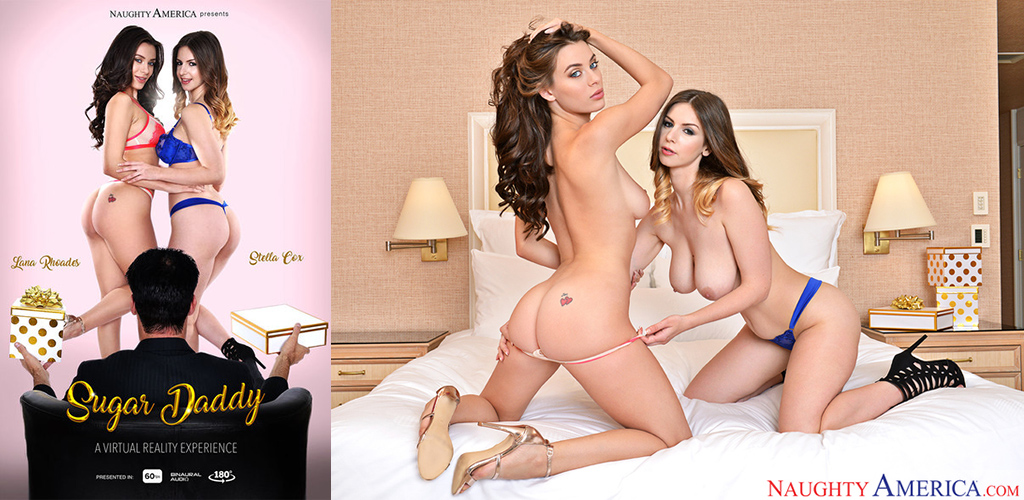 The length of each scene varies, but most are around the 35-40 minute mark. This keeps download speeds low, while giving enough content for those who want to spend a substantial amount of time locked away with their favourite pornstar. Early videos were under 20 minutes, but this has gradually increased, resulting in the recent excellent Stella Cox and Lana Rhoades scene lasting for just under an hour (and worth every second).
As one of the early adopters, we can forgive Naughty America VR for the relatively poor quality of their early videos. The low 30fps framerate and wonky scaling has now been fixed and all current videos are filmed using a state of the art 60fps set-up. This means superb image clarity and lifelike rendering. But don't be put off from digging through the archives - some of the early videos, such as Mia Malkova's scenes from 2015, bear up well and should certainly be checked out.
The shoots often shift from outside to inside, but visual quality and lighting remains the same - very few scenes take on that murky grey tone that you'll so often find in VR porn. This behind the scenes attention to detail is one of Naughty America's best qualities.
All the scenes are shot in 180 degrees, with none of the wasteful full-circle footage found in gimmicky 360 degree videos. The display shows purely action so there's no chance of looking to the side and spotting an annoying immersion-breaking watermark. It's a small detail but says a lot about their attitude to the consumer.
The perspective and scaling of most videos is almost perfect. The camera height is the correct level for the actor's body and you'll genuinely feel like you're in the scene. The women you're with are correctly proportioned, and there are no distortions when she leans in, or if you look at the top of the image. Again, some of the early Naughty America VR scenes do have the occasional issue but these have now been fixed.
Best of all? Two updates per week. This comes at a slightly higher cost to most VR porn subscriptions, at $24.95 per month, but keep in mind most only update once a week. Payment is swift and simple, with a choice of PayPal for ease of use, or bitcoin for those who value their privacy.
Update frequency
Naughty America VR have one of the most regularly updated release schedules with two brand new videos every week. This, along with the extensive back catalogue, means there's enough content to get your VR porn fix for years to come.
Price
The standard monthly subscription is $24.95, which is at the higher end of most VR porn sites. However, this includes two updates per week and there are plenty of alternative options, such as a three day trial for just $1.95 and a seven day trial for $4.95. Both these options offer unlimited streaming in full HD and one downloadable scene. A yearly membership brings the monthly price down to a bargain $5.95 per month, while if you pay for the $19.95 per month Fantasy Bundle Membership you'll get access to a number of other porn and VR porn sites, including the highly-regarded Real Teens VR and the Randy's Roadstop series of virtual reality videos.
Actor variety
As you'd expect from the name, most of the actresses are American, and in turn, most are young and caucasian. There are black, Asian and Latina girls, but fewer than with other sites. But when it comes to major porn names, Naughty America VR is hard to beat. You'll find everyone from Mia Malkova to Lily Love, along with dozens more big names from the top tier of porn, along with some exciting newcomers.
Scale / Distortion
Naughty America VR has had problems with scale in the past, like most of the early virtual reality porn companies, but these have been resolved. All videos are shot in 60fps, at the correct scale and with no notable distortion. The girls look like girls and you feel like you're physically there in the scene.
Video quality
While it doesn't quite reach the dizzy heights of CzechVR, the image quality is reliably crisp and clear, with bright vivid colours and each girl is pixel perfect. Despite the tendency to shift between outside and inside settings, the lighting is always realistic, with none of that unpleasant murkiness other studios often end up with.
Download speed
The site is slick and professional, with no download issues. Depending on format, the video files range from around 2gb up to 8gb, which can make for an extended download time, but the resulting improvement in quality is more than worth it.
Bonus content
The straight monthly subscription doesn't have much in the way of bonus content but upgrade to the Fantasy Bundle Membership, and you'll receive access to no less than 47 top-drawer porn sites, including the excellent Real Teens VR site and the well-regarded Randy's Roadstop spin-off series.
Conclusion
It's hard to find fault with Naughty America VR. They're one of the top sites out there for a number of reasons. The image quality and camera angles are second to none, but more importantly the actual content of each scene is always fantastic. They specialise in attention-grabbing scenarios that don't dominate the video, but rather add colour and life to each scene. This dramatically increases the engagement level of the viewer, and you'll easily find scenes you want to go back to again and again. Not only that, the pool of talent used in these VR scenes is among the best out there. Prepare to get intimate with some of the biggest names in porn, such as Katrina Jade, Dani Daniels and Karlee Grey. If you have fairly mainstream tastes when it comes to sex, women and porn, Naughty America VR is almost certainly the right one for you.