We all know what Milf stands for, and it's no surprise what's on offer here. Attractive mature women with slightly dominant attitudes, seducing you in full 3D vision. There are some gems in the admittedly-limited library but there are also a number of fairly average scenes, making it difficult to recommend to the average virtual reality porn fan. However, if you're bored of the young women who make up the majority of VR porn and fancy someone with more experience, there are enough good scenes to make it worth a look - or at the very least, a one-off purchase.
As the name suggests, MilfVR is all about the older woman. In porn terms, this generally equates to women in their 30s and 40s, with surgically enhanced breasts and a take-control attitude. However, if we're being picky, it's something of a stretch to describe some of the featured actresses, such as Kagney Linn Karter (who only recently turned 30), as MILFs.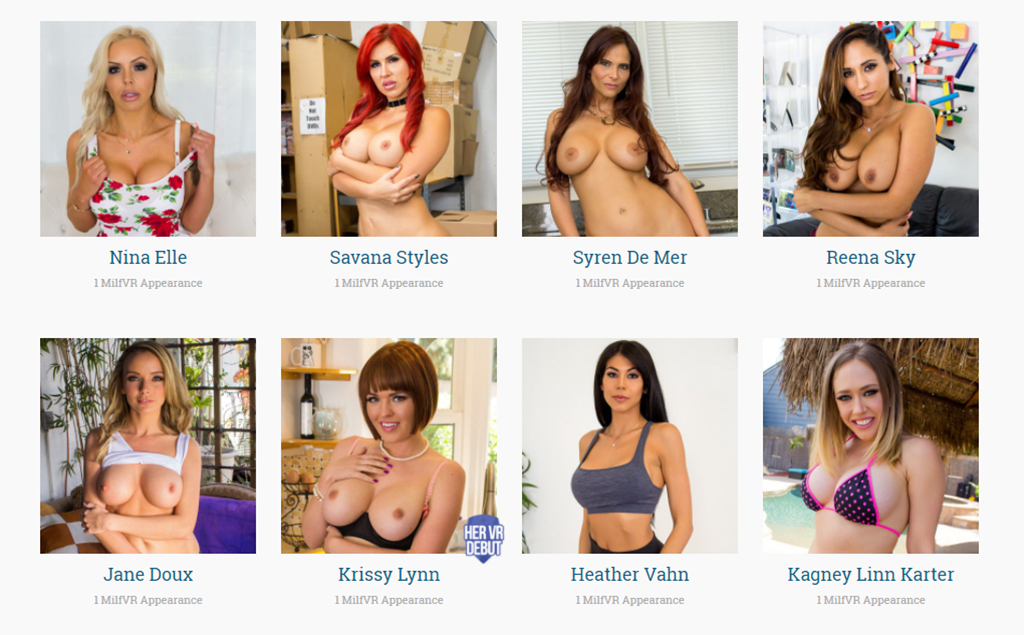 The site is a spin-off of the hugely successful WankzVR porn studio. As that site's focus is mostly on teens and girls in their twenties, it made sense to set something up for fans of women with somewhat more experience. It's a relatively new site, only launching in February this year and as such the video archives are quite sparse, with only twenty scenes on offer at time of writing.
Updates are one video each week, just half of what WankzVR and most other studios deliver, but in turn, the monthly fee is much lower at just $14.95 per month, with a range of hefty discounts for longer subscriptions. This becomes even more appealing if you sign up for the full VR bundle, which includes both MilfVR and WankzVR for a combined price of $29.95.
But enough facts and figures, what about the content? In all honesty, it's not the best virtual reality porn on offer. For every attractive classy older lady, such as Reena Sky in the very good 'Power Play' scene, there are a few actresses that simply aren't very appealing.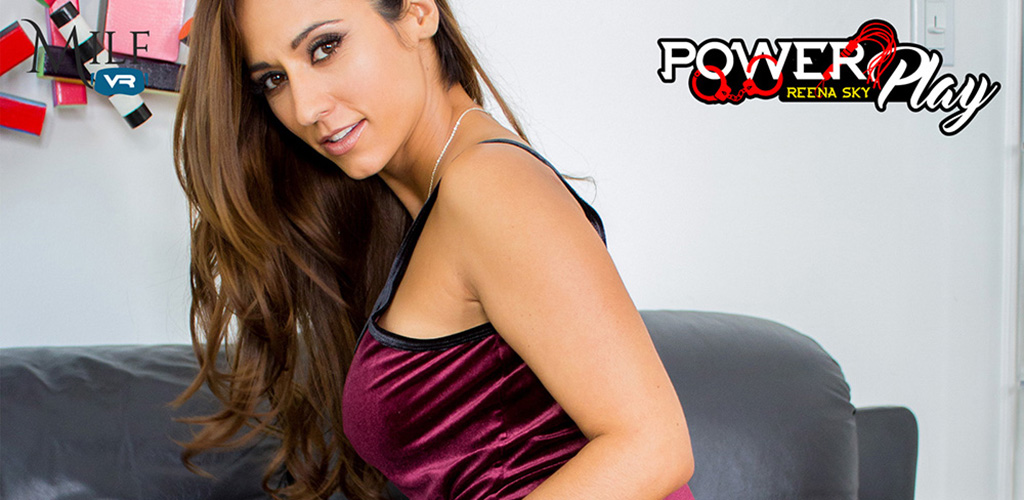 Even the once-stunning Marie McCray turns up, but far from the busty redhead we know and love from her late-00s heyday, she's lost weight, cut her hair short and bleached it, making her almost unrecognizable. She appeared in a good quality WankzVR scene with Liza Rowe last year, so it's disappointing to see her made up like this.
And this is probably the biggest flaw with MilfVR: the inconsistency of the models used. For every good video, there's a poor quality one where the porn star is made to look homely and old-fashioned. And while some people might have a fetish for frumpy women, they're likely few and far between.
However, there are excellent scenes, such as Dani Jensen in 'When Milfs Hand You Lemons'. Dani looks great, with firm but realistic looking fake breasts and a brilliantly convincing way of addressing the viewer. If your fantasy is to be seduced by an elegant older lady, this is the scene for you.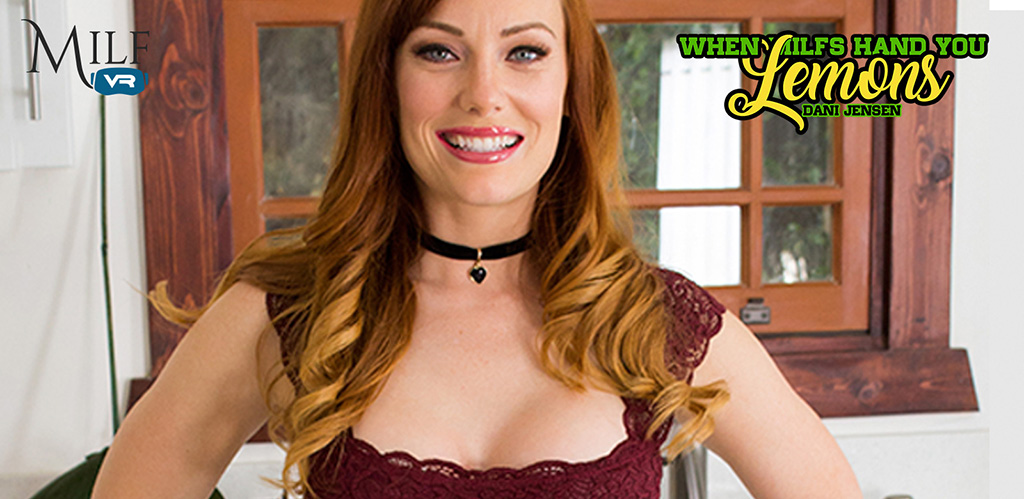 The Kagney Linn Karter 'Black Widow' scene is another gem, but would be more suited to a WankzVR release than MilfVR, as there's never any feeling of being involved with a mature woman. As good as it is, it's basically straight-up standard VR porn. Still though, there aren't many better butts in virtual reality than Kagney's, and seeing it bounce up and down in the reverse cowgirl position is something every porn fan should experience, up close and personal.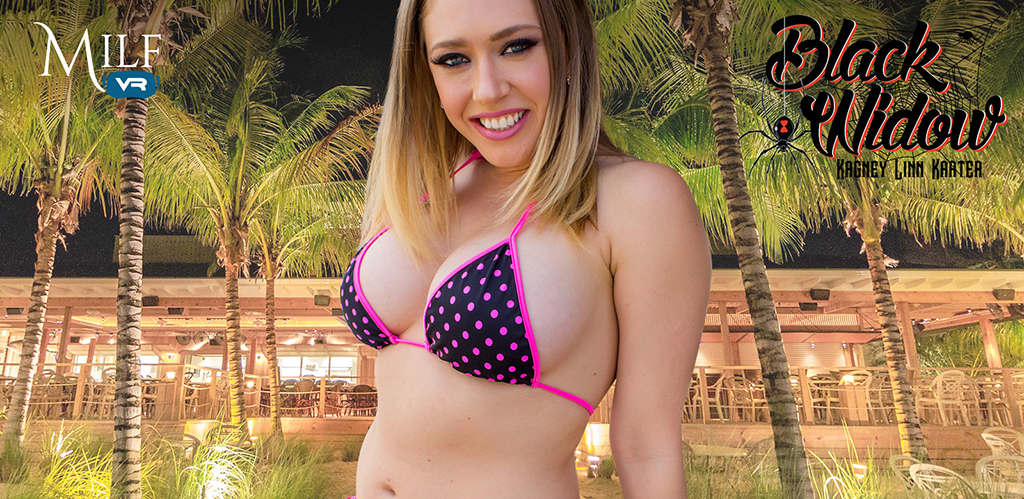 But to be critical for a second, Kagney needs lessons in how to kiss in VR as at the moment, it feels more like she's licking the end of your nose.
The videos aren't as long as most WankzVR scenes, clocking in at around 40 minutes on average. This is long enough to establish the scene, with a fair chunk of the opening section of each video devoted to the set-up. The content is reliably good quality, with plenty of positions, angles and different shots.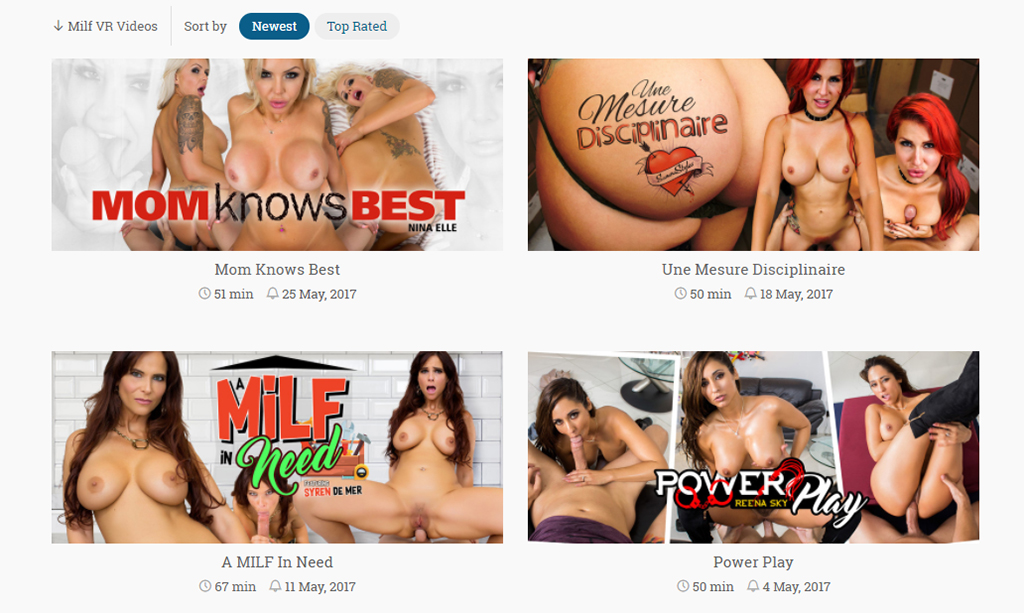 The camera rig is the same used by WankzVR so the positioning and angle feels natural and it's easy to get immersed in the footage - particularly if we're dealing with one of the more convincing porn actresses, such as Krissy Lynn or the fantastic Sarah Vandella.
As with WankzVR, the image quality is good although the colors can sometimes be slightly too greyed-out when compared to studios like Czech VR and VR Bangers. This is evident in Heather Vahn's otherwise excellent 'Downward Doggystyle' video, where the lighting in the gym feels washed out and lifeless.
When it comes to content, it's largely straight sex without much variation, although there is a threesome with Marica Made and Mercedes Carrera that's worth watching. But despite the occasional video like this, on the whole MilfVR is a fairly uninspiring site and mostly for those with a fetish for older women. To truly take off, it needs more stunning actresses like Dani Jensen and Reena Sky, who take on the Milf role and do it justice.
Update frequency
Just one update each week puts this at the low-end of virtual reality studio release schedules. With such a mixed-bag of quality, this can prove frustrating.
Price
The price is low compared to rival studios, but the quality is variable and the release schedule is about half of what most 3D porn companies put out. If money is no object, give it a whirl but the more discerning VR porn fan should at least wait until the video library increases in quantity before paying for a subscription.
Actor variety
The name of the site says it all. This is almost entirely older women, mostly white and mostly American. It's worth knowing that some of the so-called Milfs are barely out of their 20s, so it's not wall to wall mature women.
Scale / Distortion
The rig used is the same as the one used for WankzVR. This means the perspective is good and correct, and the women are always properly proportioned.
Video quality
Other than a few lighting issues the video quality is great. Not quite as good as CzechVR and VR Bangers but still very good. You won't be disappointed on this front.
Download speed
Download speed is excellent, much as you'd expect from the team behind WankzVR. The site is easy to navigate, although the content is limited.
Bonus content
You get access to over thirty non-VR bonus porn sites for your money.
Conclusion
Much like in real-life, the Milfs of MilfVR are a mixed bag. For every stunner, there are ones you wouldn't look twice at. So for this reason, unless you have a penchant for the more mature lady, a subscription to MilfVR isn't an essential purchase. Sure, there are some excellent scenes but there are plenty of poor quality videos, in terms of both featured actress and video quality. At the moment, with such a small library of videos there's not much content to trawl through and you'd be better off signing up for the two day trial and checking out either the Kagney Linn Karter or Dani Jensen videos.