BadoinkVR is one of the earliest virtual porn companies, releasing its first videos back in June 2015. It's been at the forefront of the VR porn revolution ever since. They reach a decent balance with content quality, star power and usability - and now the price is at an all-time low, making this one of VR porn's must-try studios.
The BadoinkVR site currently boasts over a hundred scenes, featuring some of the biggest - and hottest - adult movie stars around.
But bigger doesn't necessarily mean better. Apart from the standard of the girls (and guys) involved, the most important aspect of VR porn is how it looks - the overall visual quality. Thankfully BadoinkVR stands up well next to the competition. Whether you're using Google Cardboard, GearVR or a more high-end set-up, the image quality is crisp and sharp and it's easy to get immersed in the footage.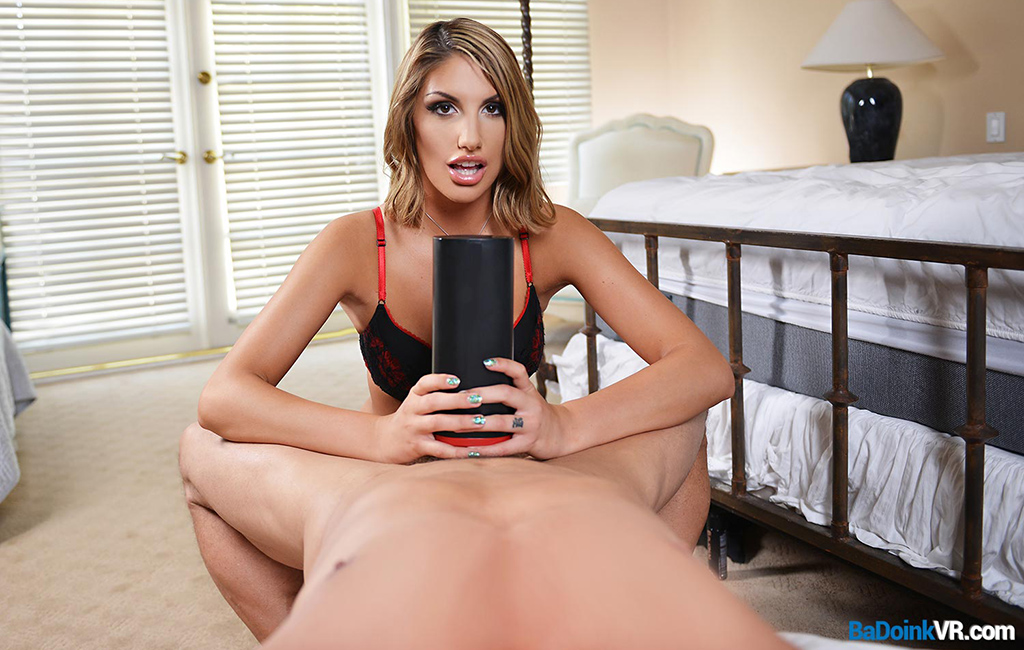 The lighting in each scene is reliably excellent, regardless of whether indoor or outdoor lighting is used. Every thrust and jiggle is captured in pixel-perfect 3D video, with vivid colours and crystal-clear definition. While it's not essential, the use of binaural audio is a pleasing addition, helping achieve that all-important immersion.
The vast majority of the scenes are shot at 180, though some earlier scenes have a full 360 view. This isn't an issue. While looking around in full-circle can be impressive at first, it soon becomes unnecessary - if you're screwing the girl of your dreams, would you be swivelling your head to see what's going on behind you?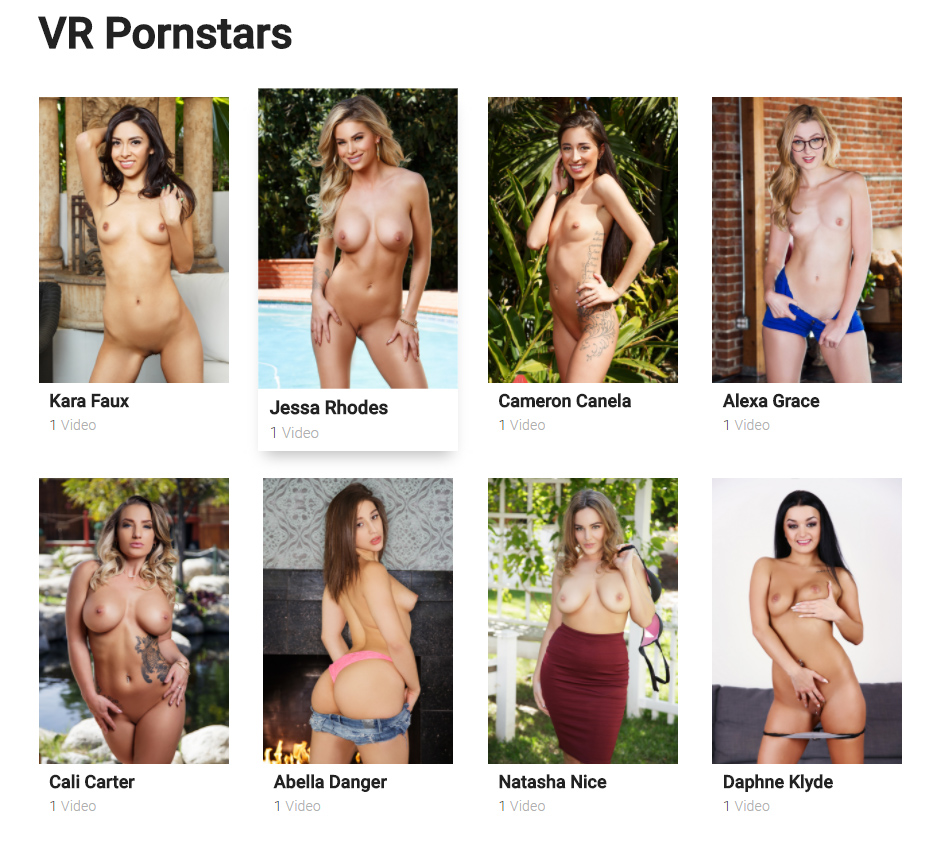 Point of view is an important factor, and BadoinkVR has it nailed. The perspective is exactly how it should be - the girls look realistic and in perfect proportion. There's no risk of the dreaded "giantess" problem, or the weird chest-eyeline issue you'll find in videos from rival VR porn companies.
Framerate is another key issue. For smooth playback with no stuttering, 60fps is required. While some of the very early videos were limited to 30fps, this was soon fixed and now every scene is shot in 60fps as standard.
The website is easy to use, although there have been reports of users having issues with credit card charges. Happily, these are usually resolved quickly by the customer service team. Oddly, unlike the vast majority of VR porn companies, BadoinkVR don't accept PayPal, which can be a major turn-off to users who don't want porn charges showing up on their credit card statements.
New videos are released on a weekly basis, which is fairly standard for VR porn. They often do money-off offers so keep an eye out for any reductions before signing up. A monthly subscription is $14.95, which is at the lower end of most sites. Impressive stuff considering the high profile porn actresses and superb video quality.
But enough about the technical side - what about the content?
VR porn lives or dies on the quality of its actors, and BadoinkVR has some of the absolute best. Major starlets such as Riley Reid, Natasha Nice and Valentina Nappi have all shot for BadoinkVR, along with a host of equally-stunning newcomers.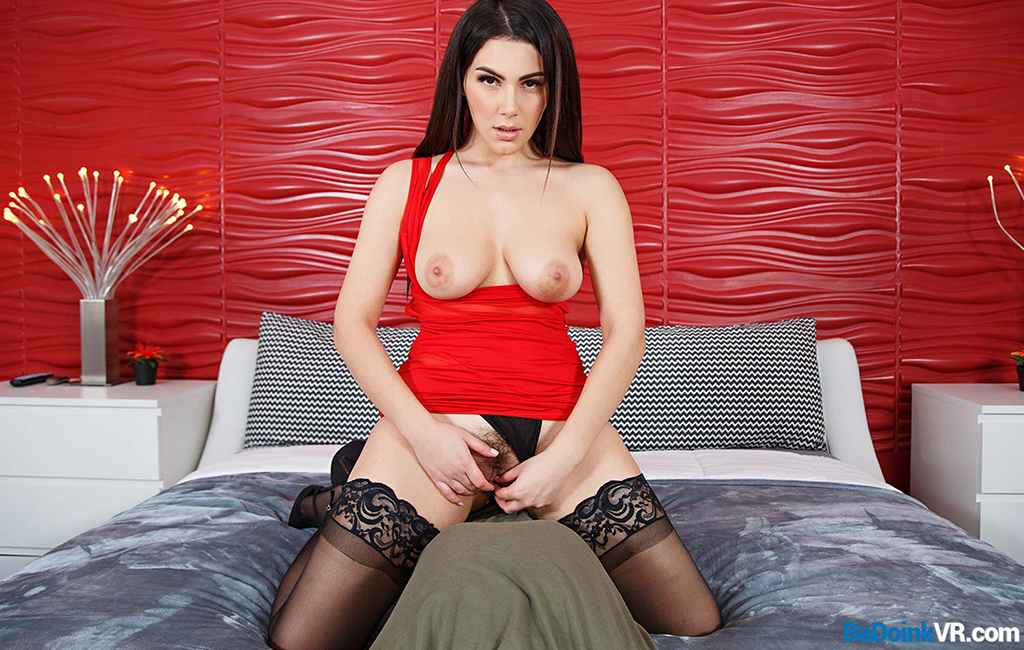 The set-up is fairly vanilla, generally featuring one girl and viewed from a male perspective. Dig deep and you'll find a couple of female-POV videos, some lesbian or solo scenes, and the occasional third-person-perspective shoot, but the vast majority are guy-on-girl. If you're feeling greedy you'll find half a dozen threesomes (always with two girls).
The girls vary dramatically. Milf, teen, fake tits, natural tits, tall, short, black, white, blonde or brunette - whatever your preference you'll find at least one video here that does the job. This makes BadoinkVR ideal for the VR porn newcomer who wants to try out all the different flavours on offer.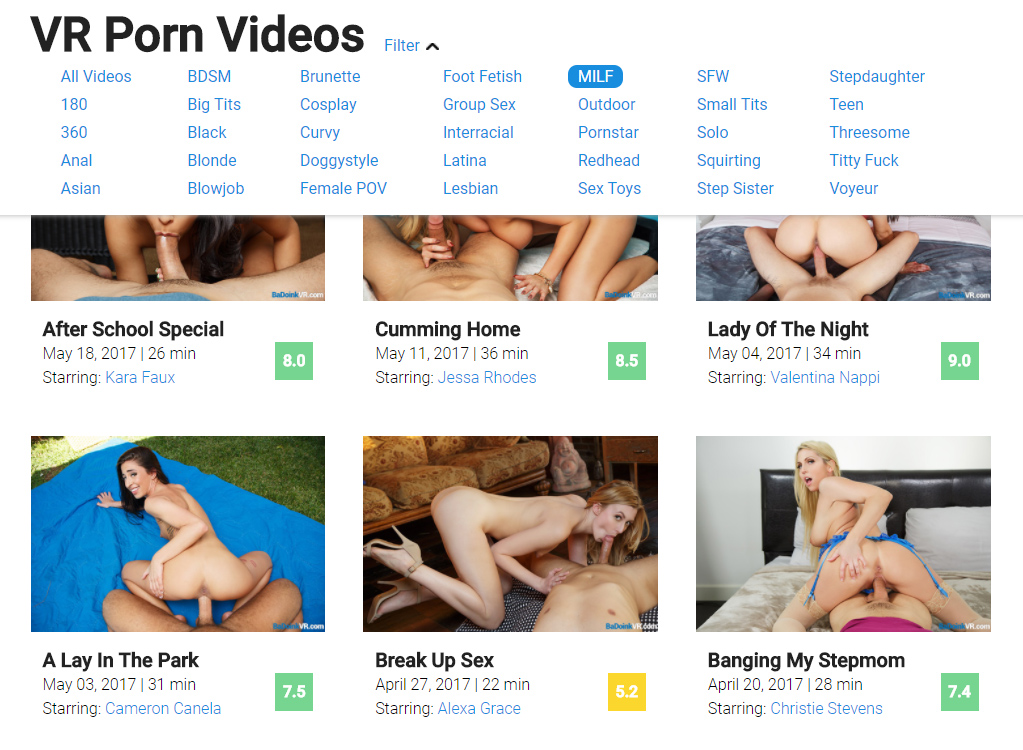 Of course, attractiveness is subjective but there are very few truly unappealing girls in these videos, and plenty of world-class stunners.
On the other hand, fetishes are thin on the ground. Sure, there are some squirting and foot-themed videos but you'll need to go elsewhere for anything harder or more niche. Even ass fans will be left wanting, with only ten anal scenes currently available across the entire site.
Kissing has become a popular element in VR porn - and once you've experienced it, you'll know why. These days BadoinkVR does a good attempt at it, in the main. Most girls get the angle right, and while previously they'd go too far into the camera leading to the awkward cross-eyed effect, now they seem to get it just right.
The videos themselves generally follow the same tried and tested format. You're sat somewhere, usually in a bedroom or by a pool, a girl turns up, says a few scene-setting lines then undresses. Then it's onto the standard blowjob, cowgirl, reverse cowgirl, doggystyle then finish with a facial. And for most people that's fine. The typical VR porn viewer simply wants to see a beautiful girl ride his virtual cock, and BadoinkVR does it reliably well. No fuss, no fancy gimmicks.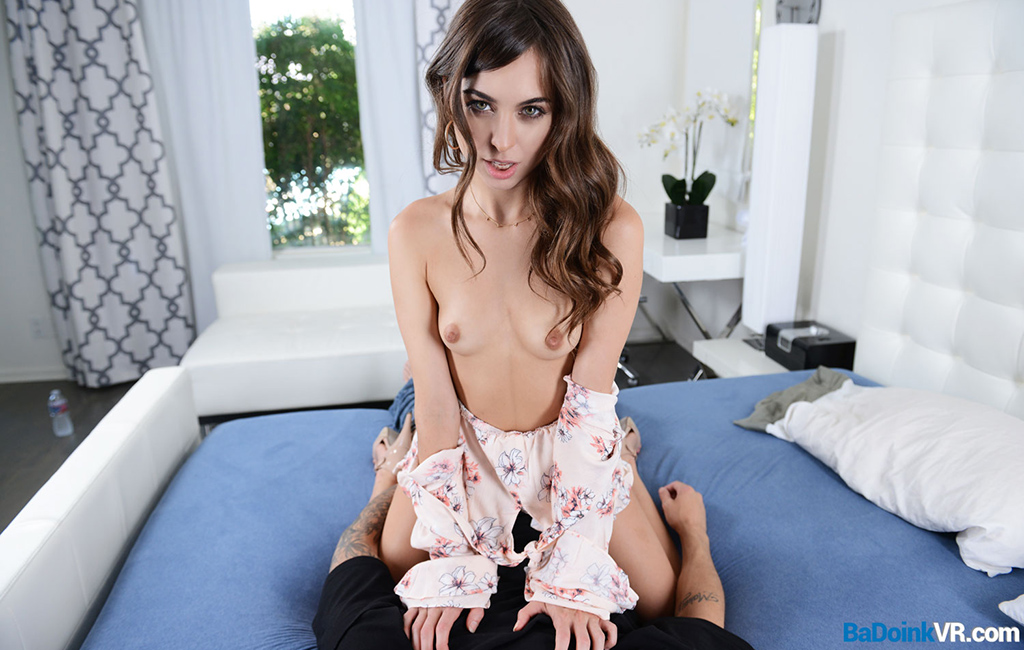 Most videos hover around the 30 minute mark, which is more than enough to get your rocks off. A recent trend in VR porn is to have a lengthy set-up, with the girl talking to you for over ten minutes before even showing a tit. BadoinkVR videos quite rightly get down to business in under five minutes. No one watches VR porn for the plot, we just want to see naked girls. And virtually fuck them.
Update frequency
BadoinkVR release two brand new videos per week. This is the better than most VR porn producers, and a great deal for the price.
Price
The monthly subscription is currently at the low end of the market, making the video quality and regular use of major porn names a bargain at twice the price.
Actor variety
BadoinkVR have a good range of girls used across the site. All shapes and sizes can be found here, and practically all of them are top-tier attractive.
Scale / Distortion
The scale is fine, none of the problems that some studios have. The girls look life-sized, not like dwarves or giants. The perspective is also good, practically all the time the view is how it would when having sex in real life. Some of the very early videos had issues on this front but not anymore.
Video quality
Great quality videos with crisp clear images, solid smooth framerate and eye-catching vivid colours. BadoinkVR is up there with the best.
Download speed
Some users have reported problems in the past but this seems to be resolved now. Each video downloads at maximum speed with no issues.
Bonus content
BadoinkVR have started offering a good amount of extras for the subscription cost, including virtual reality live cams, access to the complete Badoink VIP network (boasting over 10,000 porn videos) and a free cardboard headset which won't be of much use to anyone but those brand new to VR porn. You'll also find the occasional themed video based on seasonal events.
Conclusion
BadoinkVR stands tall as one of the most high-profile virtual reality porn companies right now, and for good reason. Other than some teething issues in the early days, their videos are excellent quality, filmed accurately and using a wide range of reliably attractive - even stunning - girls. While other companies might have more unusual locations or more out-there fetishes, BadoinkVR is a solid mainstream choice for both newbie and seasoned VR porn fans. Still not convinced? Check out a trailer of Zoe Doll's incredible 'Zoe's Homecumming' scene and you'll soon change your mind. Right after you shoot your load.