There are dozens of virtual reality porn companies on the market, and 18VR is one of the more newer studios to enter the business, backed by the might of the Badoink porn network. But do they offer anything different from what's already on offer? In some respects no, as this European studio has many of the same girls used by other studios, as well as a similar look and body shape, but that doesn't mean they aren't worth checking out.
Do we really need another European VR porn studio? Fans of immersive porn will be well aware of the many companies offering similar content to 18VR, from Reality Lovers to CzechVR, and 18VR even uses some of the same actresses, such as Lady, Bug, Anny Aurora and Belle Claire. But that doesn't mean this relatively young studio isn't worth checking out in more detail. Indeed, 18VR has some of the most impressive VR porn scenes to date - and this bodes very well for their future.
First off, the setting is generally more interesting than its rivals. Sure, we often see that age-old white couch, or sparsely-furnished bedroom, but you're just as likely to be sat in a conservatory with huge glass windows letting the sun in, or a well-stocked kitchen. This small but notable variety in location shows that 18VR care more about attention to detail than you might first think.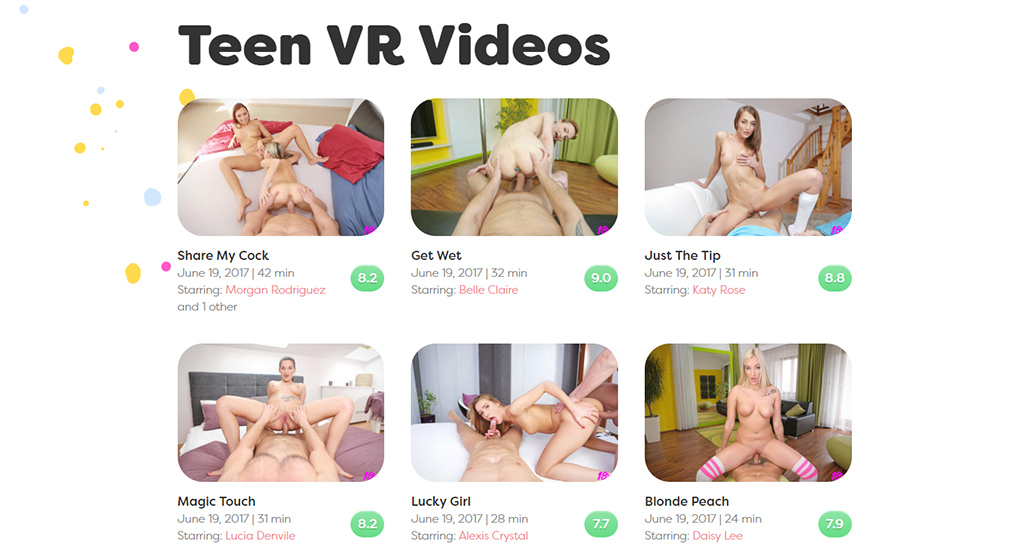 The video quality is second to none. The scenes are brilliantly well-lit, with plenty of rich, natural light, and bright locations. The headset positioning can often be an issue in VR porn, sometimes feeling as if you're peering out through your pornstar's chest, but there are no problems here. Every view feels realistic and natural, as if you're there in the room.
Technical-wise, we're dealing with 180 degree footage - and for good reason, 360 degree videos were an early-days gimmick that has largely died out, though it does have a small fanbase. The camera is fixed, so rather than move around, as in some recent CzechVR videos, often causing queasiness, we stick to the tried-and-tested method of sharp edit cuts as our actors switch rooms or change position. This is fine, it's what we've come to expect from VR porn, and the variety it provides is worth the slight impact on immersion.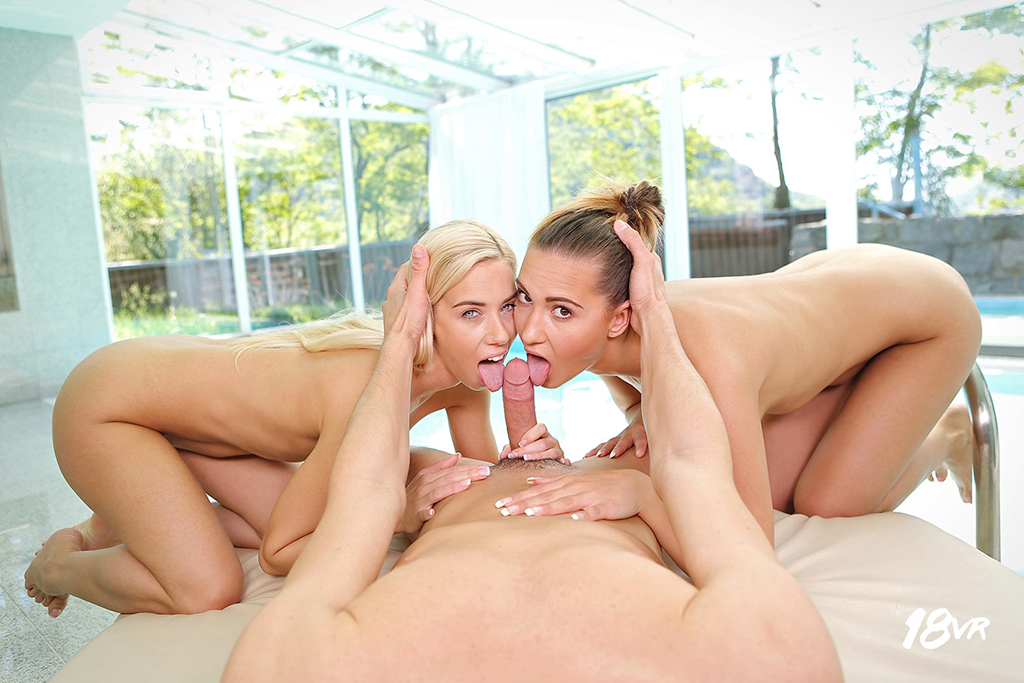 But what about the scenes? This is what really matters. True, some of the boy-girl scenes are fairly standard, nothing much different from what you'd get from Virtual Taboo or a typical Virtual Porn Desire video. There are a few anal scenes, but mostly we're sticking to the vagina, and occasionally there's a group sex scene. So far, so standard VR porn. However, when 18VR tries something a little different, it strikes gold.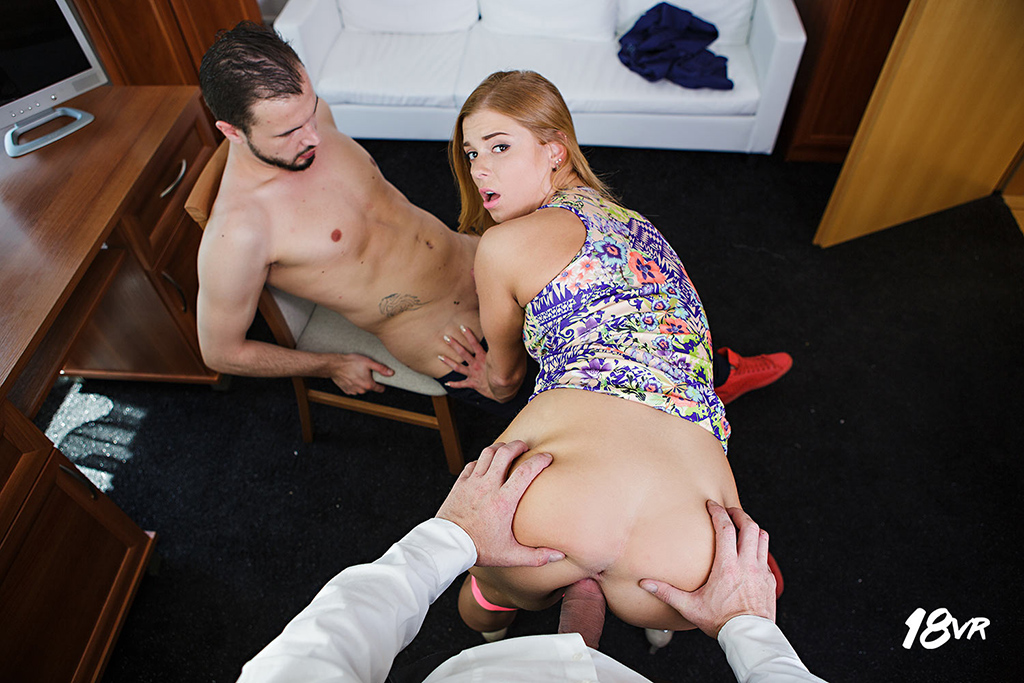 'Entry Level Job', starring Chrissy Fox is a perfect example. Of course, it doesn't hurt that Chrissy is a pretty girl-next-door blonde, with an appealing innocent quality. The plot is that she has turned up for a job interview, and this quickly turns into a threesome with you and your male friend, who just happens to be there. The action is a fair sight rougher than what you're used to seeing in VR porn, with Chrissy being slapped, choked and deep-throated, sometimes all at once, while either you or your friend fucks her aggressively.
It's a fantastic scene, and one of the very best on the market. Chrissy is a true professional, every squeal and moan feeling genuine, playing the submissive role perfectly. It proves that VR porn can go further than vanilla boy-girl sex, and that the right plot matters, no matter how basic, and adding in some fresh sexual acts can really liven things up.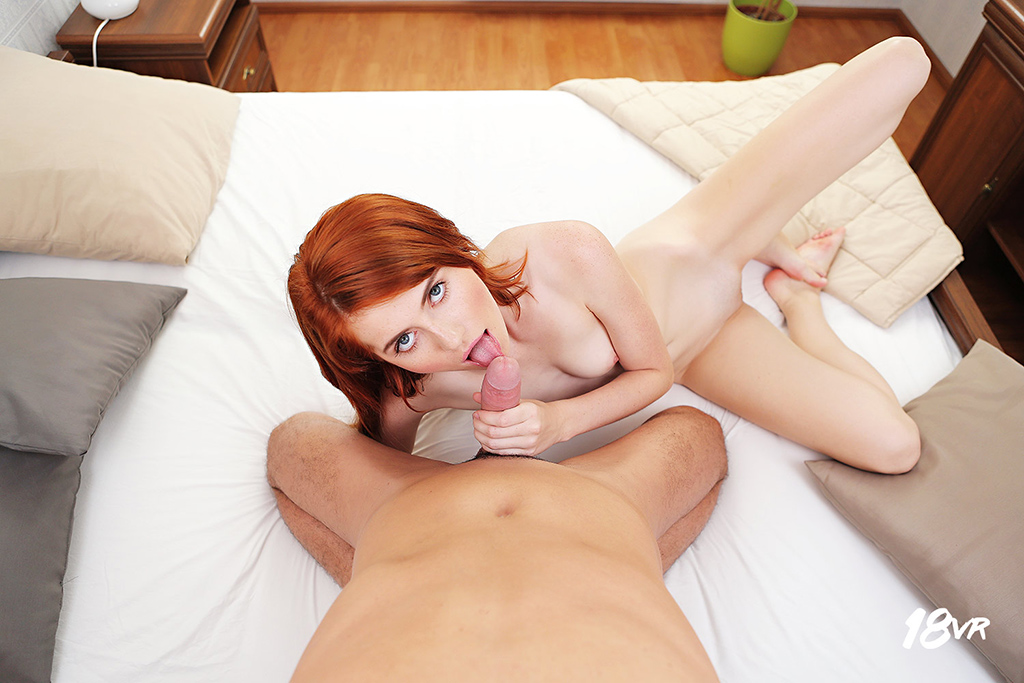 'Wild Thoughts' starring Anna Swix, is another scene that pushes virtual reality porn into new arenas. Anna is a slim redhead, aiming to seduce her stepbrother (you, the viewer), and the video opens with us hearing her inner monologue while she parades in front of him, offering up a series of the finest upskirt scenes to ever hit the world of VR porn, from sitting across at the breakfast table, to getting out of a car. It's a very basic plot, but it ramps the sexual tension up no end, and is vastly superior to the bog-standard stilted chat that opens most scenes.
Sofi Goldfinger in 'DP Tissue' pushes things even further, with a threesome scene featuring two males, both fucking Sofi at the same time - one up the ass, one in the pussy. This is a notoriously difficult thing to pull off when filming VR porn and this is one of the best examples of it to date.
Of course, not all 18VR's videos are like this. Most of the boy-girl scenes are no better or worse than most of the VR porn videos out there. But if they go down this route of applying a well-thought out semi-narrative, plus rougher, dominant sex acts, they could carve out a welcome niche. It's a new studio, just a few months old and launched by BadoinkVR, so here's hoping they go down that route rather than simply rehashing what's already out there.
The porn names will be familiar to some, including the ever-present Alexis Crystal and the pneumatic Eva Berger, and hot new names such as Katrin Tequila and Naomi Bennet.
Is it a worth a subscription? It's too early to tell. The video quality is excellent and the site is easy to navigate so there are no major reasons not to, especially if you're a fan of young, slim, white European girls, usually in their mid-twenties. We recommend using the $1 one-day pass to check out either the Chrissy Fox and Anna Swix scene, and go from there. But be warned, as good as the other scenes are, they don't quite match up to these two.
Update frequency
18VR release new videos at a rate of one a week. It's a standard schedule for a fairly new VR porn company, but if they want to become one of the major players they should consider ramping this up - or copying the innovative Reality Lovers model and start releasing both POV and voyeur versions of each video.
Price
A subscription to 18VR will cost $19.95 per month. It's a good price for a studio which boasts some of the best scenes in VR porn, reduced from $24.95. And this can go down to an even more appealing $5.95 per month when you sign up to a yearly subscription. Even better, they offer a special $1 offer, where you can stream the videos for an entire day, and take advantage of a free download. And you certainly should take advantage of this, as we'll explain later.
Actor variety
Let's be blunt, if you don't like white European women in their twenties, you probably won't find much to enjoy on 18VR. If you do, however, there's an acceptable range of girls on offer, within that field. Blondes, redheads, brunettes, small tits, medium tits, they're all here, though a wider age range and some bustier girls would help round things out. Overall, the girls are generally slim, with long straight hair - this is no bad thing, but if that kind of girl isn't for you, look elsewhere. There are a good number of group sex scenes, either with another guy, or two or three women - perfect for you greedy types, where one partner just isn't enough.
Scale / Distortion
We've reached the point in VR technology where the productions companies have to try really hard to mess up when it comes to scaling. Sure, some rival studios are still using old camera equipment with a few distortion issues but most modern ones, especially those from Europe, are calibrated perfectly and look as realistic as it gets without actually being there. 18VR is top of the pile for this, there are zero issues here.
Video quality
Concerning image quality, 18VR is up there with the very best. The video equipment is state of the art, 60fps with ultra high resolution and superb depth of field meaning items way in the background look as crisp as those right in front of your nose. The colors are bright and vibrant and there's little notable pixelation or jerkiness. It even has a warmer, cleaner tone than CzechVR, who are generally regarded as the best out there.
Download speed
Download speeds at 18VR are at the mercy of your internet provider, meaning they run as fast as your ISP allows. There are no issues whatsoever. If streaming is your bag, then 18VR have a strong connection meaning fast, stutter-free viewing.
Bonus content
As part of the Badoink umbrella, a subscription to 18VR includes access to the Badoink VIP Network, which includes thousands of 2D porn videos. You can claim a free Google Cardboard headset too, but any serious VR porn viewer should be using a better piece of kit than this. You'll also find a $1 one-day offer to stream anything you like, plus one free download. This shouldn't be dismissed, 18VR have a couple of VR porn's finest scenes so it's worth taking advantage of if you're curious.
Conclusion
It's worth keeping a close eye on 18VR. Everything is in place - superb, professional-quality videos and a range of attractive girls, albeit slightly limited when it comes to ethnicity and age. Their most recent videos have shown a degree of inspiration and innovation that you won't find in other studios, and if they follow this path, they'll soon become a must-try studio, rather than another interesting newcomer. The pricing is an issue, as a monthly subscription is at the high-end for merely weekly updates and a small back catalog of videos, but this reduces with a yearly subscription. 18VR is certainly one of the more exciting new virtual reality porn studios, and at the very least it's worth taking advantage of the one dollar day pass. You won't regret it.