For VR, X Marks the Spot
The Internet has been so inundated with porn of all quality levels since it landed in almost every household that wading through it all to find the true gems has long been a difficult, tiresome task. As cliche as it may sound, when it comes to finding high quality adult video streams, X really does mark a spot well worth close investigation. XVideos, online since 2007, might seem like your standard adult video aggregator but it's really one of the most visited sites on the 'net, adult or otherwise. Heavily loaded with a wide range of amateur, semi-pro, and mainstream professional content, as well as a strong selection of fetish features for those that way inclined, XVideos now also brings you a heavy helping of full length VR porn free.
Every Treasure Needs a Map
XVideos porn collection is dense and, honestly, a little daunting to wade through even when limited just to VR porn. Even excluding non-VR content from your searches can be a bit tough. No clear category is listed, nor is there an obvious main keyword tag to use. VR do return a wealth of worthwhile results, however, so you'll soon be beating yourself but looking down and seeing something truly breathtaking. Once you run a search - try "VR" and your favorite female body feature to start - you'll find close to 3000 options have been whittled down to just those that interest you. Now, take your pick and come face-to-virtual-face with the woman of your dreams.
Stars and Studios Rated X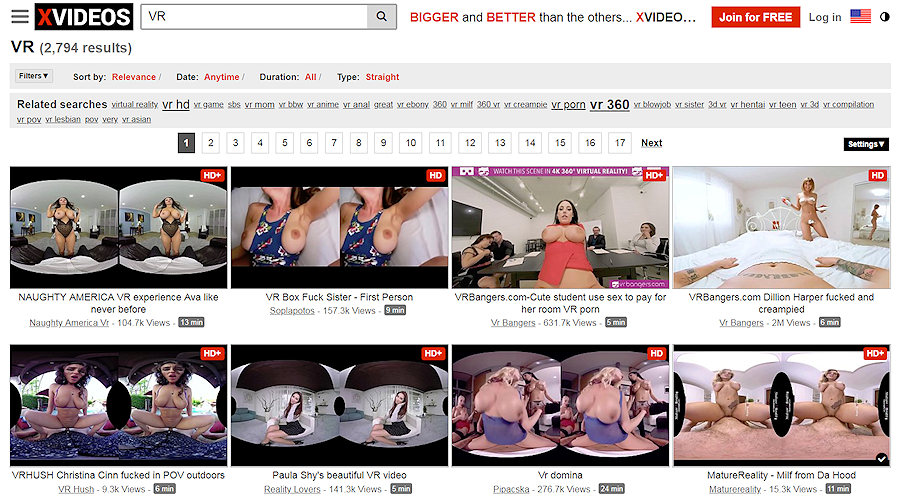 Focusing largely on the mainstream end of Virtual Reality porn, XVideos tends to feature content produced by such studios as WankzVR, "Mature Reality", and Reality Lovers while also dabbling in amateur and homemade VR smut. Notable women with whom you'll be virtually romping around include Gina Valentina, Sofie Reyez, Jillian Janson, and Mandy Muse. Obviously this is just a few of the featured models and, consider many pair up or even join group bangs, you'll be knee-deep in full HD VR porn mere minutes after hitting XVideos. With HD streaming available to all and downloading rights offered to all those paying the awesome "$0.00 membership fee" , there's no reason to be shy and every reason to strap on your Oculus, HTC, or POS Carboard knock-off and dive headfirst into the virtual porn treasure trove that is XVideos.