As a porn studio, VR Bangers has a checkered history, with their early scenes barely warranting the description 'virtual reality'. To their credit, this was soon resolved and now they're putting out high-quality, well-shot scenes with some of the world's top porn stars. They might not be the most imaginative company when it comes to set-up and content, but the image quality is some of the best available. With just over a hundred scenes, covering everything from toying scenes to hardcore anal, there's enough content to keep even the most intrepid 3D porn fan going for months.
VR Bangers is one of the second wave of virtual reality porn sites, launching a few months after the likes of Badoink VR and Naughty America in early 2016. Despite having well-known pornstars such as Dillion Harper and Marie McCray, these early videos attracted a lot of negative attention online. The reason for this controversy? The videos weren't 'true' 3D porn, rather they were filmed in 2D and manipulated to either appear to be 3D, or with a wraparound 360 degree point of view.
They can be forgiven for these early mistakes, as with many in the VR porn industry. But where do they stand now? Thankfully, all the videos are fully 3D and with some of the crispest visuals out there. Check out Alexa Tomas in 'Moroccan Dream' for example. Bright vivid colors, with every part of the scene in fantastic full-focus.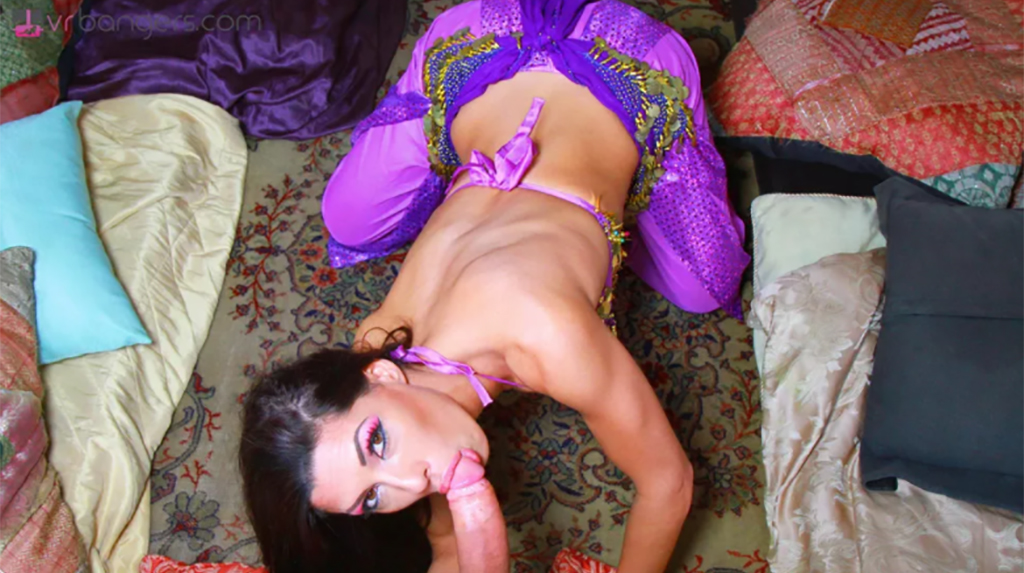 The majority of the recent content matches up to this standard, rivalling the mighty Czech VR in terms of image quality. With WankzVR and BadoinkVR you'll often notice that certain onscreen elements become blurry or blocky, but this rarely happens with the rig used by VR Bangers. If image quality is your main concern, VR Bangers is up there with the best.
Sadly, the same can't be said for the POV and camera angles. While most of them have the camera height at a passable level, some scenes, such as Cindy Starfall in 'Asian Virgin', have the viewer at an awkward height that feels both unrealistic and disorientating.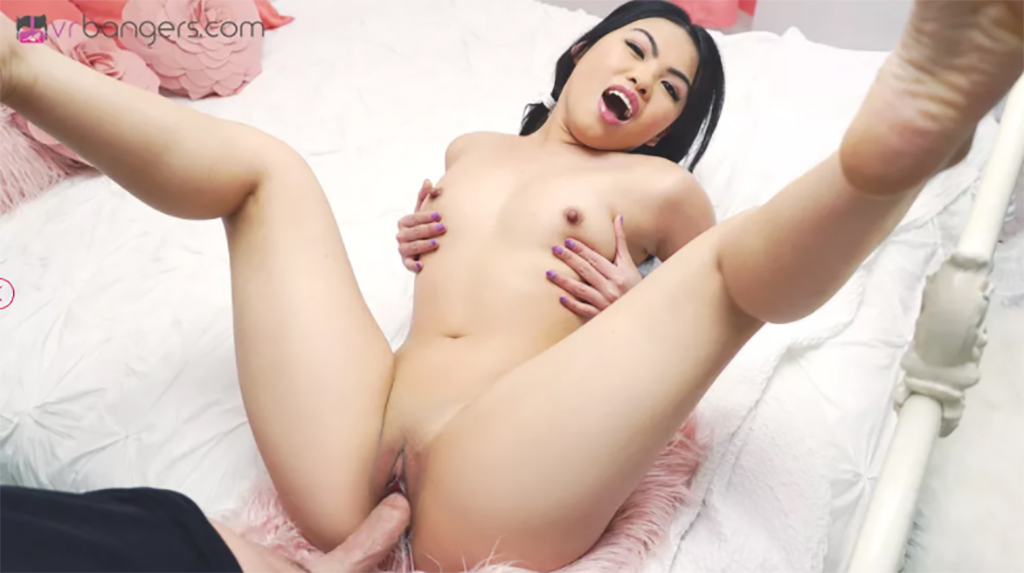 It's hard to feel immersed in a scene when your head feels disembodied and floating away from your virtual torso. But don't be too concerned - not all scenes have this problem, and of course, it isn't an issue when it comes to the various excellent voyeur scenes.
And this is where VR Bangers has the edge over its rivals. The sheer variety on offer, in terms of content, puts rival sites to shame. If you're looking for lesbian scenes, solo girls, orgies, anal or plain old blowjobs, you'll find a wealth of scenes catering directly to your desires. The anal scenes are done particularly well - and there are plenty of them, with at least six backdoor videos this year alone.
There are currently just over one hundred scenes available, featuring major American starlets such as Riley Reid, Anya Olsen and August Ames, as well as countless non-English-speaking actresses from Europe and a good number from Asia. Regarding the latter, the poor English might be a problem for some VR porn connoisseurs, as the lack of conversation or broken, stilted dialog may be off-putting and unengaging. For those of us who care more about screwing beautiful virtual women, this won't be a problem.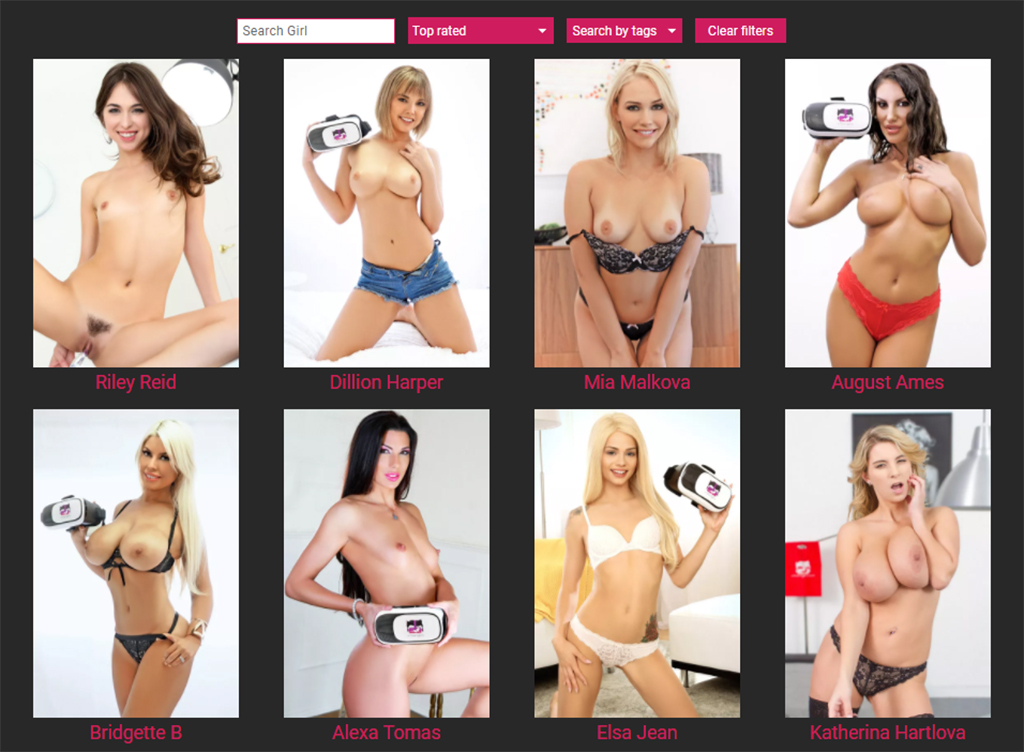 There's a substantial crossover with sites such as Naughty America VR and BadoinkVR when it comes to the models, so you'll find the likes of Anissa Kate and Mia Malkova showing up here. Unfortunately, these scenes by the more famous pornstars are, on the whole, less appealing than the ones available on rival sites. For example, take Mia Malkova and Riley Reid in 'One Last Bang Before The Wedding'. On paper, it's two of the most beautiful and high-profile porn actresses in the industry so you'd expect it be one of the essential VR porn scenes. But the video itself feels flat and uninspired. Both women look tired and their makeup is poor, plus the lack of variation when it comes to camera angle makes the full video seem dull and lacklustre. It compares poorly to WankzVR's 'On Set With Riley Reid' and Mia's 'My Friend's Hot Girl' scene for Naughty America, both of which have an energy and vitality that VR Bangers often fails to live up to.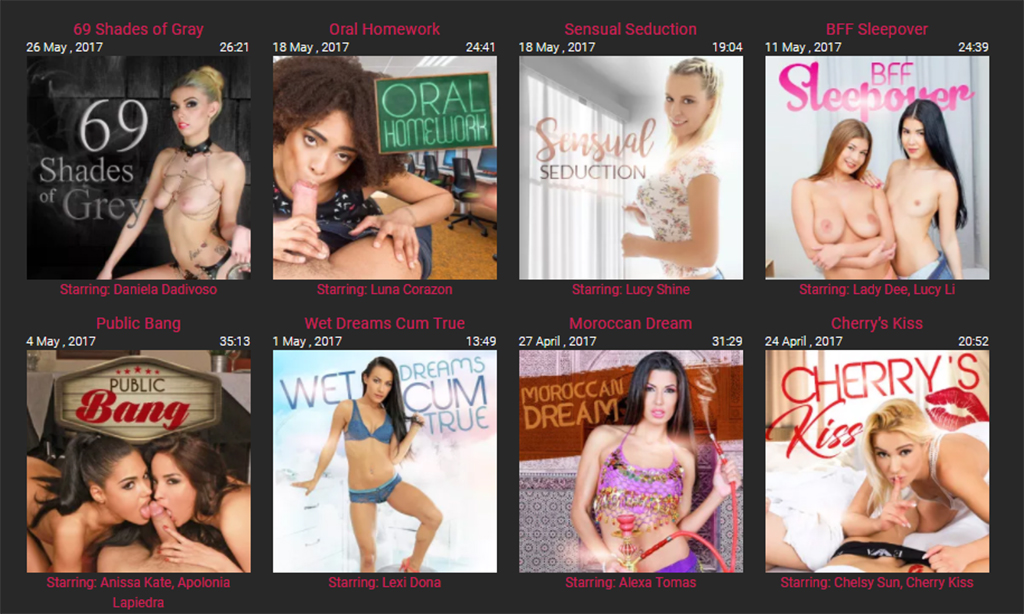 However, this isn't always the case, and things have improved over recent scenes. 'Tutored By Kathy', featuring the magnificently-chested Katherina Hartlova is an absolute must for fans of massive breasts. Everyone knows big tits look incredible in VR porn, and Katherina's are the biggest and best in the business. Every bounce and jiggle is rendered in high definition and despite the fixed camera angle, the whole scene is 3D porn perfection.
VR Bangers don't put much effort into the plots and set-ups, so if you're a big fan of narrative you might be better looking elsewhere. The location is usually a bedroom or living room scene, with the occasional variation such as an outdoors tent, garden or sauna. On the whole, this doesn't matter - if you want a storyline, read a book.
Each video averages out at around 30 minutes, and the action starts in the first couple of minutes. The release schedule varies but it's usually more than one per week, making the $24.99 monthly subscription fairly competitive compared to other high-end sites.
Update frequency
The schedule tends to vary, sometimes with two videos one day then nothing for a week, but it averages out at six videos per month. Good value for a reasonably-priced subscription, especially when you take advantage of the discount offers.
Price
The price varies but currently stands at $24.95 per month, with various offers bringing this down to a very competitive $8.32 if you sign up to a yearly subscription. It isn't the cheapest out there, and nor is it the most expensive, but considering the high-profile names involved this is good value for money.
Actor variety
To its credit, VR Bangers has more Asian and non-white girls than most sites, as well as a good variety of body-shape, including the holy grail of VR porn: huge breasts. Check out the superb scenes by Lucy Li and Katherina Hartlova for the biggest and best boobs in virtual reality.
Scale / Distortion
The camera rig used by VR Bangers in recent months is one of the best out there, but the angles are sometimes slightly off, making immersion tricky. While the girls never look warped, the viewer can sometimes feel like they're peering out of the male actor's chest.
Video quality
The actual image quality is up there with CzechVR as the very best available. Everything on view is crisp, clear and in focus. More studios should follow this example.
Download speed
The download speed is as fast as you could possibly need it to be, with 5gb files downloading in a matter of minutes depending on your internet connection.
Bonus content
VR Bangers doesn't offer much in the way of bonus content, other than a range of discount offers on price.
Conclusion
VR Bangers is a great, if flawed, virtual reality porn company. Like most studios, their early efforts were poor quality but they've overcome the negative attention and gone on to produce some of the very best scenes available - particularly when it comes to anal sex and big breasts. The superb image quality is their standout feature, with reliably high resolution footage and no frustrating blur or blocky pixels. Where it falls down is the content of the scenes. It's rare to find a shift in camera angle, you're usually in one fixed position throughout the entire scene, and all too often this can start to feel stale and lifeless. VR Bangers have more than enough famous porn star names to warrant a monthly subscription, although it should be noted that most of these actresses can be found working for other VR studios, such as WankzVR and Naughty America VR, often in more exciting scenes.